In the South, there's an expression commonly used. When someone says they're having a "Come to Jesus" moment, it typically means they're about to rip into someone, or tell them what's what.
We just had one of those - involving four children.
Having a twelve, ten and eight year old boy can be a handful. Throw in the drama of a six year old girl, and well, you get the picture.
The other evening, the kids were lying around the TV room, watching shows and playing on their electronics.
Adam and I were in the kitchen, working on dinner, dishes, going through their backpacks and emptying their lunch boxes. This was nothing atypical. Between the two of us, we're usually up long after the kids, cleaning around the house. Between full time jobs, taking care of the kids, the dog, cleaning the kitchen, laundry, bathrooms - if you don't keep up with it all, it will bury you.
In the midst of all this, Adam asked one of the kids to pour everyone's drinks for dinner.
One of the kids - "Okay, I will."
Adam - "Alright guys, can someone else get the plates?"
Kids - "Yep."
Adam and I continued around the kitchen while they continued to sit...in zombie mode...on the couches.
Adam - "GUYS."
Kids - "Yeah?"
Putting a backpack down, Adam waited for one of them to respond. Anything at all...but there were crickets. Crickets and the mixed volume from the TV and iPads.
That's when it happened. I knew Jesus was going to enter that room. Not the, "Bring the little children to Me" kind of Jesus, but the "I'm about to tear through this Temple," Jesus.
"That's it. TV off. iPads, DS's, Xbox, everything off. Everybody in the kitchen. NOW."
Adam and I have played around with idea of giving the kids daily responsibilities/chores to do after school or on weekends. It usually lasts for a minute or so, until sports, meetings or a hundred different things get in the way. There's never any consistency or follow through, and we've never made the time to organize a good plan.
Adam sat all four at the kitchen table. Taking a pad of paper, he started.
"Mom and I do everything around here. That's about to change. You're old enough to take on responsibilities and help around the house. We're going to sit together and come up with a plan of action and each of you will have weekly chores. Christian, you'll have the most because you're the oldest. It will go down from there. We're going to think of things to do and make a list right now."
In no time, we came up with a good group that the kids agreed to choose from each week. On Saturdays, if their chores are done, they'll get an allowance on the same sliding scale according to age.
Adam went to the computer, printed the first week's list off and put it on the fridge.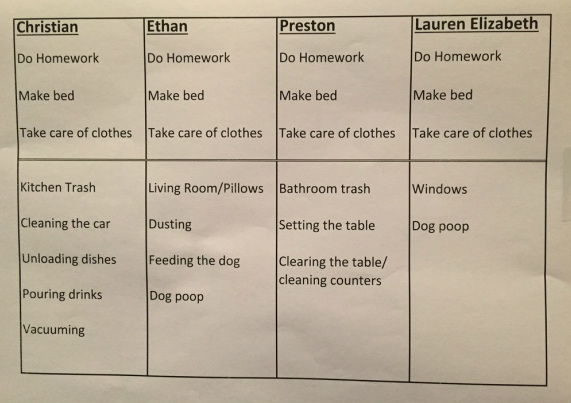 It began that night and I stood in awe as all four buzzed like bees around the house. I knew there'd be whining, complaining and fussing, but there wasn't.
The next day after school, they got right to it. Homework was done, clothes put away, and chores commenced. My jaw dropped as they went through their lists.
That night, I had to cover my mouth when Adam and I overheard one of them asking the other, "What are you going to do with your allowance?"
So that was it. A simple act that's existed for generations before, but has yet to reach our home. What I thought would be the equivalent of pulling teeth, actually became, dare I say it, fun for the kids to do. They each feel like they have responsibility and they're so excited to get paid. Our house has never been more smoothly run and amazingly clean, without the two of us being so stressed out and tired all the time.
Total win/win.
So, if you're like us, with kids lying around the house, lazy and doing nothing while you're running your tail off - consider a plan of action.
You never know, just like they say in the South, that "Come to Jesus" moment might just work for you, too.
THANK YOU FOR MOVING US UP! Please keep CLICKING BELOW to Vote! XOXO