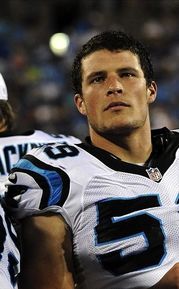 Thank you, Luke Kuechly. As a Linebacker for the Carolina Panthers in the Super Bowl, you handled yourself with class.
Thank you for being an example to our kids this year, of not only how you should act in life when you win a game, but also, how to act when you lose.
Thank you for going to the press conference after that loss of the biggest game in your life, with respect for your team, your coaches, your fans, the opponent, the game, and yourself.
It's fun to win. It's great to celebrate and cheer. The true character comes through, however, when times are tough. Nobody wants to put on a shirt and tie, face the music and hold their head up, but that's just what you did.
The example you showed our kids, those who dream of being like you one day...to the eight year old who wears your jersey, chooses your name during back yard pick up games...was an example to be proud of.
You've provided an excellent opportunity for them to learn how to handle a loss, without being rude or disrespectful. In your own words, "It's going to sting and it needs to sting. In order to learn from it, you have to let it sting".
You were filled with nothing but class to the people who root you on, and again, we thank you for that.
Keep Pounding.