Super Bowl Sunday can rival Thanksgiving day in the food department around our house. In a family filled with sports nuts, the biggest game day of the year usually results in a marathon of horribly-bad-for-you, wonderfully delicious foods.
Some of our favorites include: Buffalo wings, buffalo chicken dip, mozzarella sticks, homemade pizza and potato skins.
Here are the recipes...
Buffalo Wings
5 pounds chicken wings
1 cup hot sauce (we like Frank's Red Hot)
2/3 cup melted butter
oil
Heat oil in deep fryer or deep pot until approximately 375* (when the handle/back of a wooden spoon bubbles when you put it in, then it's ready)
Add batches of wings in hot oil for approximately 10-15 minutes then remove. (Check the inside for pinkness)
Combine hot sauce and melted butter in large bowl, add wings to bowl. Cover wings with sauce and serve with ranch or bleu cheese dressing and celery.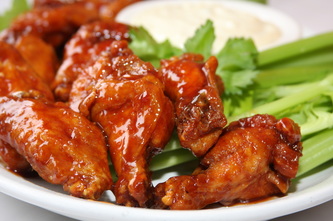 Buffalo Chicken Dip
2 cups shredded cooked chicken (for convenience, there is canned chicken usually around the tuna fish section)
1 (8 ounce package) cream cheese
1/2 cup hot sauce
1/2 cup ranch or blue cheese dressing
1/2 cup crumbled bleu cheese or your favorite cheese

Pre-heat oven to 350*
Combine all ingredients and place in shallow 1 quart baking dish.
Bake 20 minutes and serve with Pita Chips.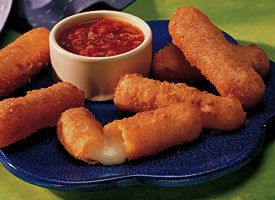 Mozzarella Cheese Sticks
2 (16 ounce) blocks of Mozzarella cheese, cut into sticks
1 1/2 cups Italian bread crumbs
1 1/3 cups grated Parmesan cheese
1/2 teaspoon salt
4 eggs, beaten
oil
Marinara Sauce

Combine bread crumbs, Parmesan cheese and salt in bowl. In another bowl, stir eggs.
Cut cheese into sticks, dip sticks into eggs, then coat with bread crumb mix.
Place breaded sticks on baking sheet, cover and freeze at least one hour.
Heat oil over medium heat.
Working in batches, fry the cheese until golden brown.
Serve with Marinara sauce.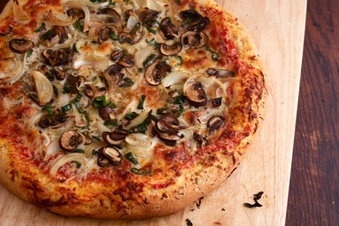 Homemade Pizza
2 packets (1/4 ounce each) active dry yeast
2 Tablespoons sugar
1/4 cup olive oil
2 teaspoons coarse salt
Pizza sauce
Shredded Mozzarella Cheese
Toppings of choice
4 cups all-purpose flour

Pour 1 1/2 cups warm water into large bowl, sprinkle with yeast, then let stand approximately 5 minutes.
Mix sugar, oil and salt into water/yeast mixture.
Add flour and stir until dough forms.
Oil another bowl and transfer dough, brushing top of dough with additional oil. Cover with plastic wrap and wait an hour until dough has doubled in size.
Place dough on floured surface and knead one to two times.
Stretch to fit pizza stone or on parchment paper/baking sheet.
Cover with pizza sauce and desired toppings (black olives, pepperoni, sautéed onions, mushrooms, green peppers, etc.)
In a 500* oven, place pizza in for approximately 12 minutes.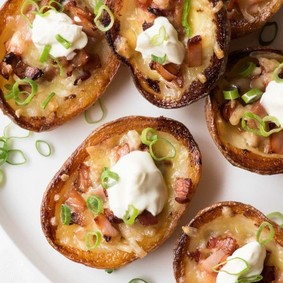 Potato Skins
Potatoes
Oil
Shredded Cheddar cheese
Bacon
Sour Cream
Chives
Salt
Wash and pierce potatoes, then bake in 400* oven for approximately one hour, or until tender inside.
Cool to handle
Fry bacon and crumble when cooled.
Slice potatoes in half, lengthwise, then scoop inside of potato out, letting some remain.
Heat oil in large pot or deep fryer, fry skins in batches.
On lined baking sheet, arrange skins, filling inside with shredded cheddar cheese and crumbled bacon.
Set oven to broil, then place inside oven for approximately 4-5 minutes.
Sprinkle salt, sour cream and chives to taste.
Enjoy! XO
Please Click the Box Below and VOTE each day! Thank You! XO