Ohhh the little bellies full of candy. What a great time it was to go Trick-or-Treating this year.
The kids put on their Star Wars costumes and were ready to take on the Galactic Empire. I painted my face and dressed as Padme Amidala and then convinced Adam to be Han Solo.
This year was especially fun because one of the most amazing families we know had the COOLEST Halloween party of all times. Our friends Julie and Bob turned their house into the most spooktacular home you've ever seen, then had a ton of people over for food and fun...and of course...Trick-or-Treating! Their neighborhood is full of Halloween treats and even has a hot chocolate pit stop for the kids to warm their hands and tummies.
Another great thing about this year was that a childhood friend of mine named Bobbi had just moved to North Carolina from our home in Ohio. She and I literally grew up across the yard from each other and it was surreal to Trick-or-Treat with her again - this time - chasing OUR kids around.
Even though it was tricky to push Christian around in his wheelchair from the surgery on his foot, it almost made his Darth Vader costume seem even more cool. No matter what, it always feels like there's something magical about this night where candy flows and friends and family gather to search for chocolate treasure and sugary fun. I hope the kids remember tonight well and always have happy dreams of many Halloweens to come. Happy Halloween!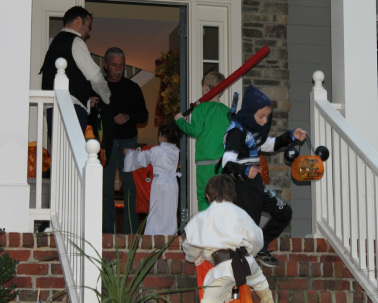 The kids ending their night with a Halloween tradition...watching "It's the Great Pumpkin, Charlie Brown". We hope you had a Happy Halloween!