It was 2003. I was pregnant with our first child and was as big as a house. I could barely fit into our car, so Adam and I began searching for our first family vehicle to get ready for the baby.
Many friends had minivans, but we vowed to each other, to never break down.
"Stay strong", my husband muttered as we drove from car lot to car lot.
No matter what the features or conveniences of each minivan model, we refused to bite the bullet.
Why? I'm not really sure. I guess it felt so 'old' and uncool.
Finding a sturdy SUV, we happily drove our family of three around town, not realizing the car would soon gain one, two, then three more babies shortly thereafter.
Years have passed and the bigger the kids have gotten, the smaller our vehicle has become. It was to the point where knees became pulled in and packing the car for traveling was beyond obnoxious.
We were forced with the realization that it was time. Time to look for something else. Something the six of us would fit into comfortably. Something like a (gasp) minivan.
Searching through different models, we finally settled on one...and as much as I hate to admit it...I've fallen in love.
Someone evidently created the openness of the interior and features throughout the van, with a thousand sticky covered children screaming in the background. The ease and convenience of each button and knob go beyond anything we've ever seen before.
This on top of the amount of space and room inside...forget about it. It's bigger than my first apartment.
In the end, even though I realize it might not be 'young' or cool to drive a minivan, it sure is awesome.
If we've learned nothing since our younger days, we do know this, convenience and practicality far outweigh coolness any day. Especially when it comes to...the minivan.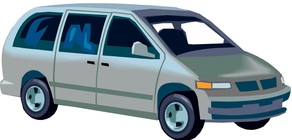 Thank You for Voting for our blog by CLICKING the PINK BOX Below! beep! beep!