When Adam and I got married, I couldn't boil water. I mean, I literally had to call my mom and ask how to make spaghetti.
Dorm food led to apartment food, (bowls of cereal and canned corn) when I was suddenly smacked with the realization when I became a wife, I should probably learn how to cook for two. Like, actual food, sans Lucky Charms.
You can imagine my surprise then, when I discovered how much I genuinely enjoyed to cook. The Food Network became my new best friend and I began to look forward to trying the next recipe.
When the time came for the chance to make our first Thanksgiving meal, I couldn't wait. What I didn't realize however, was that making dinner is one thing...making Thanksgiving dinner...that's a whole different story.
Who knew how long a frozen turkey had to take to thaw in the fridge? Not this girl. And what's with the junk inside? Why do they put the guts and neck IN the turkey, making you reach up to your elbow, into the frozen tundra of death?
You know what makes the whole house smell like the holidays? The best pumpkin pie this side of Martha Stewart. You know what Martha forgot to mention? How the last thing you do is keep working on the side dishes when the timer goes off. Having your husband take the pie out only leads to him burning his arm, causing him to flip the entire pie upside down, covering the inside of the oven. Yes, there's no smell quite like the aroma of scorching pumpkin pie throughout your house. Even better, the smoke alarms act as Christmas music while you scoop out pumpkin lava and scrub the scalding hot oven.
And then there's the ham. Ahhhhh, the ham. I get that they're usually pre cooked and all, but feeding a house full, the last thing I'd want is for anyone to get food poisoning. Better safe than sorry, so it's probably a good idea to put the ham in for just about as long as the turkey. That way, not only do you have the honey glazed deliciousness of Thanksgiving, you also have enough meat left over to provide shoes for your family into the next year.
Needless to say, years past of the worst Thanksgivings, have provided experience and knowledge for the best.
They've taught me how to thaw a turkey, keep pies unflipped and glaze a ham to perfection.
More importantly, they've shown me to take time to share with those you love, no matter how good or bad the food is.
So even if your corn casserole of life tastes raw and burnt at the same time, cherish each bite. One glorious, smoke alarm filled Thanksgiving at a time.
We hope you and yours had a Happy Thanksgiving!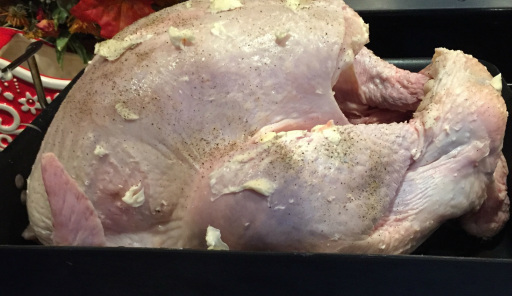 Remember to VOTE by clicking the pink box below to move us UP! Thank You! XO