We recently had an interview for our last little one to get into Kindergarten. Besides the general nerves that go along with any interview process, I was surprised at some of the questions. Not because of the questions themselves, but because I barely knew the answers.
"How many letters does your child know? Numbers? Can she identify one through ten?"
I'm sure my blank stare was very reassuring.
If we went back to our first born, not only could I have responded to every single question with great detail...I could have provided examples. A spreadsheet in fact, of his progress and performance regarding his overall growth and development.
This time around though...crickets. It's been like that with everything. When I went to the hospital to have our first born, I went in with a birth plan. A BIRTH PLAN. Seriously. It was all printed out, page by page and checked off with notes. By the time our fourth was born I just wanted to go in, have her, give the doctor a high five and go home.
With our first, I knew every detail down to his weekly changes. With our fourth, my neighbor and I were in the front yard once as she held her little boy who's about the same age as Lauren Elizabeth. She smiled saying, "Look! His first teeth are coming in!" I stuck my finger on Lauren's little bottom gum and said, "No way! Her's are too!"
I used to get upset when people would say, "I made a baby book for our first child, but stopped after that."
Ummm, yeah. Our first born has not only one photo album, but four. Every single month I took pictures, had them printed and then scrapbooked with all that I had. Our second son has two years worth of photo books, our third son...well...I bought a book to begin...and our fourth? Forget about it.
If a stranger touched our first baby's cheek, I would want to scrub him down. By the time our forth came around, I would smile at someone in the park and say, "Hi, you look nice. Hold my baby."
If our first's pacifier touch the ground, it was put in the dishwasher. When our second son's pacifier fell, we rinsed it off in the sink. Third, we wiped it on our shirt and fourth...she sucked her thumb.
As guilty as I feel about not being able to keep up with her like I did our first, I can't help but think that it's served her well in some strange way. She walked before her brothers, talked before her brothers and at the age of four, she can pretty much run the show.
Even though I have no idea of the dates of her milestones or how many numbers or letters she knows, I do know this. She's learned to survive in a house full of crazy and she definitely knows how to hold her own. She's full of love and wonder and has a light inside that is contagious.
In the end, she got accepted into Kindergarten and we're excited to see how the year goes...and who knows? Maybe now I'll even get started on that baby book.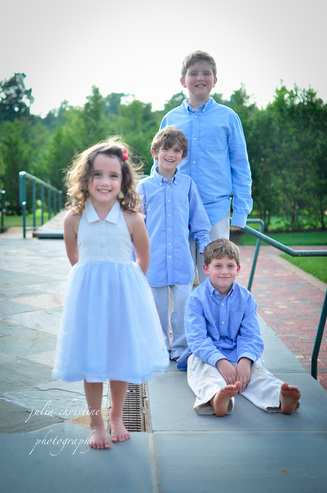 Please Remember to VOTE each day! Just click below! Thank You!