Moving to North Carolina from my home in Ohio was a scary thing to do alone. My parents said to go to church and meet good people.
Sixteen years ago today, on Palm Sunday, I met one in particular. He was cute and handsome and impossible to ignore.
My parents were visiting to make sure I was settling in, when this cute boy asked my mom to pin a cross made out of a palm onto his shirt during the church service.
Little did I know that after dating him for the years that followed, I'd learn that he'd saved the cross the whole time, because it was from the first day that we'd met.
Sixteen years later, that same cute and handsome man looked over and smiled as one of our boys walked up to us at church and handed me this...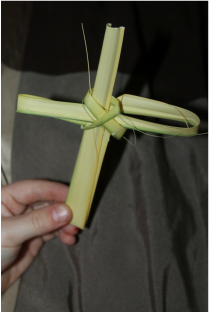 It took me back to how it all began and how it's been ever since.
It's nice to see God's little reminders of how His plan unfolds before our eyes. I'll always be thankful for that one fine day, sixteen years ago, when one cute boy on Palm Sunday, happened to me.
PLEASE CLICK BELOW TO VOTE! THANK YOU!!!