Okay Sears, I'm done. I've been sitting on hold for the past 30 minutes and I'm still waiting to speak with someone who can help us.
Our washing machine kicked the bucket over a month ago and we've been going back and forth with you ever since.
When we originally called - you said that someone would come out to fix it in two and a half weeks. That's a long time to wait without laundry for a house of six people, but okay.
When the man showed, he spent twenty minutes on the machine and said, "I can't fix it. I need to order a part."
Then he left.
After many calls, we finally got him to come back to our home over TWO weeks later. (We're up to a month without being able to do the laundry mind you.)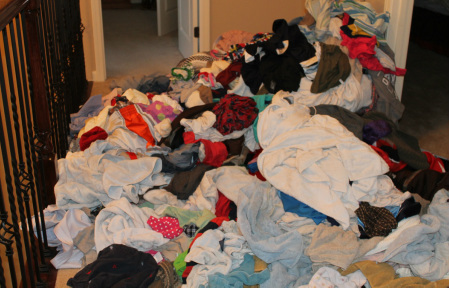 Finally coming back, the man went upstairs to our laundry room and banged around quite a bit. Out of nowhere, directly below him - which is our kitchen area - there was a stream of water pouring from the ceiling...yes...the ceiling.
Running upstairs, I said, "Hey! There's water coming down from whatever you're doing!" He simply replied, "I don't know what to tell you. It's not my fault."
WHAT?!
I ran back down the stairs to get a bucket and the man followed me down a little while later, shaking his head.
"Ma'am, there's nothing I can do. I can't fix it."
It takes a LOT to make me cry.
There actually aren't a whole lot of people who have ever even seen me cry. THIS guy was about to become one of them. I was so mad and felt my eyes well up with tears but I immediately pulled them back.
"Why can't you fix it?"
"Well, because I ordered the right part, but Sears sent me the wrong part."
Picking up the phone, I called you - Sears - and you said that there was "nothing you could do". You said that he had to order another part and wait for it to come in, then have him come back another time to try and fix it...AGAIN.
Hearing the front door, I went to see what he was doing but he was gone. He left. Running back upstairs, I found our whole machine torn apart - piece by piece with OUR bath towels draped over the parts. One of the towels was covered with dirt and grease...ruined.
When I told you about all of this Sears, again you said, that there was nothing you could do. I would just have to wait for him to come back (whenever that would be) and try to fix it for a third time. I don't really think that I WANT him to come back to "fix" it after everything that he's fixed so far.
So, here I am, waiting on hold...for you to tell me that regardless of the machine that we bought from you...regardless of the extra hundred and some odd dollars that we spent on the warranty guarantee that you promised was SO great...I sit...with a mountain of laundry from six people that's been growing for over a month...give or take an extra 45 minutes now that I've been sitting on hold.
I'll have to say that one of the most jaw dropping moments in all of this was when the last woman I spoke with asked me what the likelihood on a scale from one to ten would be that we would ever do business with you in the future. I am wondering where "never in a million years" falls on your scale...
But yes, Sears...don't you worry...I'll continue to hold...