Our kids think we're Superheroes, literally.
It all started one day when our then five year old little girl was walking up the stairs in front of me, then suddenly stopped. Looking up, she tilted her head to one side and questioned, "What's that?"
"What's what, Baby?"
"That up there? What is that?"
Realizing she'd never noticed the door that leads to the attic, I guided her up the rest of the way to explain.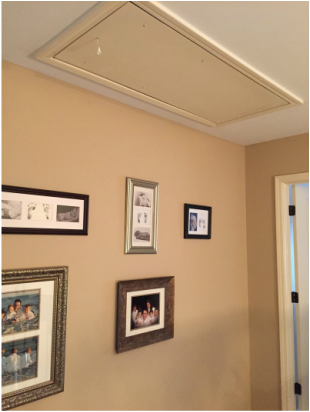 Before we reached the top, my husband, Adam, who had heard our conversation from upstairs, had other ideas.
With a wink of his eye, he nodded for me to wait.
"That's our secret exit," he smiled widely as I looked as confused as our daughter.
"Our what?" She wondered as she reached the top step.
"Our secret exit. When the four of you go to bed at night, that's when Mom and I go through this exit to fight crime."
Trying to keep my face straight, I bit my bottom lip as she whipped herself around to look at me for validation.
Our seven year old son popped his head out of his room, "What do you mean, fight crime?"
We all turned our attention back to Adam, "Just like it sounds. Every night when you go to bed, mom and I run up those stairs and take our secret exit. We can't go through the front door, because no one can ever see us. That's the biggest rule of crime fighting...your secret identity."
"Stairs? But there aren't any stairs. It's just a door in the ceiling. You can't get up to it!" Lauren reasoned out loud as she tried to call his bluff.
Knowing where Adam was going with this, I grinned as he reached to pull the cord down, exposing the folded wooden stairs, as a blast of hot air rushed from the opening above.
Both our daughter and son screamed as they ran for their older two brothers. It was just enough time for me to fall over as he pushed the door back up.
In no time, all four stood in front of us, our older two grinning wide and playing right along with us.
"So, what do you do?!" Our five year old was wild with excitement.
"Well, when you are sound asleep, we run up the stairs when a secret mission is needed."
Playing along, I added, "That's why we're always telling you to get in bed! We have a lot of work to do!"
Their little jaws dropped as though things actually made sense.
Our son whispered, "The reason you're always yelling around the house for us to go to sleep every night, is because of this?"
"Yes, buddy." My husband had a much better poker face than I. "We have so many bad guys to fight and we need all the time we can get."
"Why is it hot up there?" Lauren Elizabeth's questions have always been much more direct.
Looking to Adam for answers, I was just as interested to hear what he had to say as they were.
Without skipping a beat, he nodded, "That's because of the control center, and our invisible suits...and the jet."
Our eyes all grew wide as Adam beamed from his atypical surplus of imagination.
"ALL that's up there?" Our little boy gasped.
"Yes, but you can't see it until you're older. Got it?"
"Yes." His little face was dejected, but still filled with awe.
The kids are all somewhat older now and the younger two know enough to wonder if it's all in fun.
Our secret hero missions have come in handy around times especially like now however, while my back is hurting and I'm stuck in bed. It can be scary for a child to see their parent in pain or unable to move. This way though, there's a cool twist to it, in that I was out fighting 'Dr. Evil' and his eminent destruction. The stories have become more and more elaborate, down to what our capes and suits look like.
I realize most kids have bedtime stories involving books with princesses and heroes...but ours involve the action packed events of previous missions and ones yet to come.
It's hard not to love the look on their sleepy faces while they drift into dreams of how they will one day take over. It's especially fun to watch our two younger ones walk up the stairs with determination in their eye towards that mysterious door...just waiting for their turn.
You're doing it! You're helping us move UP! Thank You for clicking from any phone or computer BELOW each day to VOTE! XOXO