When sitting around the dinner table, I try to remember that even if something is familiar to grown ups, it might be brand new to the kids. I like to make things I think they would enjoy, but sometimes need to remember that their minds are different and inexperienced when it comes to trying new foods.
This is about the time I get a good laugh at remembering things I thought I hated when I tried them, then learned to love. Take...shrimp for example...
The first time I remember seeing shrimp, we were at a restaurant. My brother and I were playing with our food when he told me to eat one. It was a peel and eat shrimp, but he conveniently forgot to mention the 'peel' part. It looked strange, but he said it was good (like any big brother would do).
Asking if I was supposed to eat the whole thing, he just laughed and shook his head yes.
That was my first taste of shrimp...tail and all. You can imagine my disgust.
Then there's the time I had wasabi. What's wasabi you might ask? It's kind of like eating something from the depths of hell, in a nice shade of light green. I'm not exactly sure what it's even made from, but even the tiniest amount, could clear your sinuses for up to a week.
Wasabi is very common with sushi. There's another food altogether, but that's a different story.
I was working as a therapist in a hospital back in the 90's when my boss wanted me to get trained in a specialized field. I was flown to Connecticut for a few days, when a night or two into it, some of the staff I had met, wanted to go to a Japanese restaurant.
It was the real deal. Shoes off, sitting on the floor with a menu I couldn't begin to understand. I was young and nervous, having no idea what to do. A nice girl helped me order and to this day, I don't know what I had. It was good, but the only thing I thought I recognized was the quarter sized blob of guacamole in the middle of a pretty plate. Not realizing they served guacamole in Japanese restaurants, it was the first thing I went for. The whole amount, all at once.
In less than a second, the lining of my nasal cavity began to peel. My eyes literally bulged out of my skull as tears began to pour from my face. Trying to act cool like I knew what I was doing, it was useless. The girl beside me asked if I was okay, but I couldn't speak. I could only nod my head and wonder if a trip to the ER was in order.
I survived, obviously, but it taught me a good lesson. Trying new things can be good, but it can also be very, very bad.
I keep this in mind when I have the kids try new things, albeit I'll never force shrimp shells or green fire paste on them. At times it may feel all the same to them however, and it's always good for me to remember how that feels. Sushi, anyone?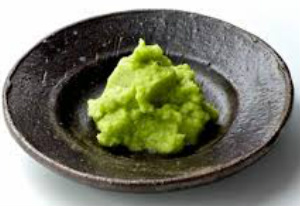 Please Click Below to VOTE! Thank You for helping us MOVE UP!