There's something that seems to happen when a child turns around the age of four or five. We've come to expect it with the boys.
Out of nowhere, their loving, tiny world of Blue's Clues, Franklin and Little Bear, turns into the crime fighting powers of Spider-Man and Ninja Turtles.
What we didn't know, is that with girls, they evidently become...well...Fabulous.
I'm not sure how to feel about this yet. Our daughter who used to be content with simply "hanging with her brothers", must now accessorize from head to toe. It was kind of cute at first, but now it's borderline ridiculous.
Take the other day for instance. Lauren Elizabeth was rummaging through our bathroom drawers, looking for a headband to match her outfit. What she found instead, was a special container of glitter dust that we keep for the Tooth Fairy.
When the kids loose a tooth, the Tooth Fairy always borrows some of this dust to "kiss" each one of them on the cheek, letting them know she was there. There's a lot of dust - and even the slightest touch of it - goes a long, looooong way.
When Lauren found this hidden treasure, it was as though she stumbled upon the land of Pixie Hollow. She carried the dust with her, promising to keep it safe.
I knew better. Telling her to give it back, I warned her that if the top came off in her little hands, it would cover her to a level that would be irrecoverable.
"No it won't mommy! Look!"
- Poof -
From the back seat of the car on the way home from football practice, a cloud of fairy dust grew to astronomical proportions. NASA's radar systems had to kick into generator mode, and probably haven't recovered since.
The boys began to scream, I steadied the car just to keep it straight, while Lauren squealed with excitement as her world became engulfed in silvery perfection.
Every square inch of us was covered in sparkles. Our hair, skin, clothes, the boy's football uniforms, even our shoes. There's no way to describe how much this powder/dust covered.
We made our way to the house and jumped out. Between the five of us, the garage floor, house floor, and aaaaaall the way up to the bathroom became a trail of Pixie Dust.
I tried to scrub the kids as the boys were furious and Lauren smiled from ear to ear. She wanted to sparkle forever.
Trying to clean after they went to bed was useless. It seemed like the more we worked, the more it spread.
The next day was even worse. Driving to school resulted in covering the four kids in glitter again. The boys all but refused to get out of the car as Lauren danced to class a cloud full of sparkly happiness. I fully expected rainbows and unicorns to pop up around her.
Our seven, nine and eleven year old boys were mortified as everything from their backpacks to their shoes had that special touch of pizzazz to go with their day.
Even I felt the humiliation of sitting through a staff meeting at work. It's hard to look professional when you sparkle. Trust me.
All in all, the glitter has died down somewhat and everyone is happy, minus one particular five year old little girl.
It's amazing to see what her world is like. There's never a dull moment...not for one single day.
I can always rest assured that she'll have the most sparkly and fabulous time about her...but now I'll know to run for cover the next time that she does.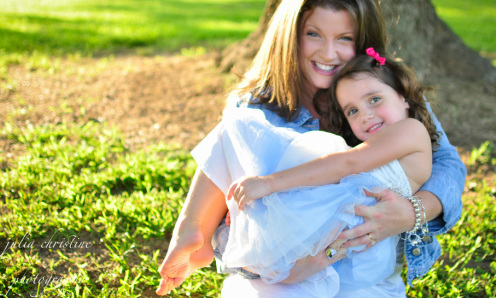 THANK YOU for clicking below and helping us move up in rank!
You are FABULOUS! :)