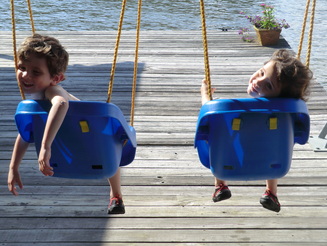 It's been the perfect start to the summer season...sun kissed cheeks and a barbeque - followed by melting ice cream cones dripping down tiny little fingers. It doesn't get much better than this. We spent the weekend at my Mom and Dad's house to celebrate the first swimsuit holiday of the year. It's so easy to pass this time off as a fun filled three day weekend to take a break from reality. I sat and watched our little ones swing together yesterday and started to think about how many families had to spend Memorial Day apart this year.
When September 11th happened, my husband and I had been married for four months. He was in the Air Force and had to go to the Middle East not long after the attacks. When the day came that he had to deploy, I stood there watching my brand new husband walk off to the flightline. He turned to wave as I waved back, praying and wondering what he was about to go through...what would happen. I was immediately snapped into reality as a little boy around five years old broke free from his mom's arms to the right of me. He ran towards his Dad screaming, "Don't leave us, Daddy! Come back!" His mom had to run to grab him while his dad turned back for a split second and yelled, "I love you, Buddy! Take care of Mommy. Don't worry - I'll be home soon." I tried to hold my tears as I watched her console her little boy - staying strong for him. As I looked around, there were families...spouses and children of all ages, waving tearful good-byes to their loved ones as they watched them go. So many families have done this for generations. The men and women who have fought to protect our freedom while risking it all - leaving everything behind. Some never coming back to it - that is what this time is about.
My husband came home, his entire squadron made it back safe and sound. I can't imagine the lives affected by those whose didn't. Our little ones are too young to understand much of what Memorial Day is really about, but it's never too early to talk about it with them on their level. To all of the past, present and future men and women in our military, especially to those who have sacrificed it all - We Thank You.