Have you ever known anyone that had the heart of a lion? Someone who had a unique mix of fearlessness and a relentless fight deep inside?
In July of 2007, our third son Preston was born and taken to the neonatal unit. He was a few weeks early and weighed only five pounds. Since our first two boys were both almost ten pounds at birth, Preston's tiny little body shook me to the core when I saw him. We weren't allowed to pick him up at first, but we were able to place our hands over his tiny stomach and chest to talk and sing to him.
I'll never forget about one or two days into the nightmare, one of the NICU nurses watched as I sat over him crying. She came to put her hand on my shoulder and gently said, "Mama, don't you worry a thing about this little one. He came out fighting and he's going to keep on fighting like you won't believe. He's already full of piss and vinegar and you're not going to believe the things he'll do someday."
It made me smile as I hoped for the best. There was nothing life threatening wrong with him. He was just born too early and he didn't want to breathe on his own yet. When he decided to start though...holy moly.
It seemed like almost overnight, he became a completely different child. We were able to hold him, feed him and love him in our arms. When we finally took him home it was one of the happiest and most grateful days of our lives.
That was six years ago and I regret not knowing the name of the nurse from the NICU. I wish I could tell her that she was right...and that he's still full of piss and vinegar. He is the strongest and bravest little thing one could ever imagine and he's never stopped fighting since.
This weekend he had a flag football game and was put opposite a boy that seemed to be twice his size. Preston waited for the signal to go and when it finally came, he charged his opponent with all that he had. It actually surprised the bigger kid at how serious Preston was. Pret would stop at nothing until the whistle blew.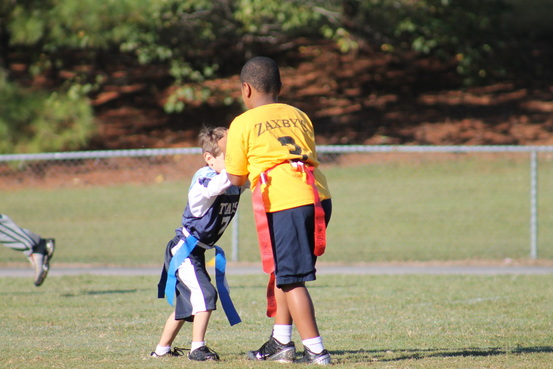 When the game was over, I rustled through his hair and smiled.
"That was a pretty big dude out there today buddy!"
"Yeah."
"What'd you think about it?"
"Not much. He was big, but I was strong."
It stopped me in my tracks. There I was, thinking that our job was to teach him everything about life - and as often is the case, the student became the teacher.
When things seem to be too much to take and challenges are almost impossible to manage...never give up. Preston reminded me that what's more important than our doubts or fears, is to stay strong.
It's been six years and I continue to stand in awe of a boy that seems so small. He surprises me to this day with his fearlessness and relentless fight inside - but above all else, I am in love with his little heart of a lion.
Thank You again SO Much for Voting below! We're still moving up
Because You're Awesome!!!