Those of you who have been with us, know that when our little girl turned six back in March, there was only one thing she asked for. A hamster.
Our neighbor has a hamster named, 'Happy' which totally fits. He's the friendliest, cutest little thing on earth. Lauren Elizabeth had fluffy dreams of spending hours on end, playing with her very own snuggly ball of fur, making all her birthday wishes come true.
Adam and I knew better. We know our luck and what usually happens in our house. Chaos.
Biting the bullet however, we went ahead with the whole nine yards, springing for a hamster house, food, the stuff you put all over the bottom that's smelly and of course, the hamster.
He was actually cute at first.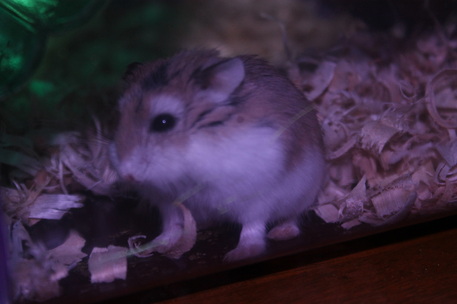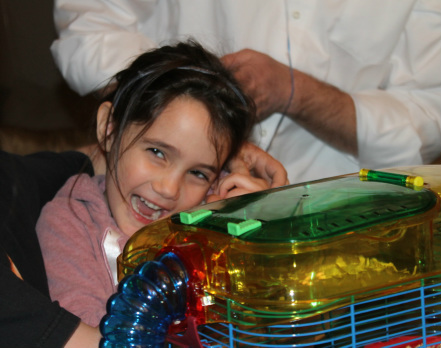 He was no bigger than a minute and as adorable as he could be. Lauren Elizabeth loved him, naming him none other than- 'Cupcake'.
The kids passed him around, holding him relentlessly until I guess one day, he just snapped.
With a peer in his eye of sheer determination, he wanted to break free. Cupcake began to bite everything. Turning his head, he'd actually reach around and squirm just to grab a nice chunk of flesh to hold onto.
Screams of panic and mayhem began filling our home as the kids scrambled to get Cupcake back into his cage, safe from his ferocious seven ounces of terror.
It got to the point where Lauren was the only one brave enough to go in and reach for him, as her three (older and wiser) brothers stood around to watch.
That's when it happened. Lauren Elizabeth put Cupcake into his hamster ball and took him downstairs with her to play. It was her only way of keeping him with her, without the small inconvenience of blood loss.
From out of nowhere, the level of shouting that came from her, caused Adam and I to run at a dead bolt to see what was wrong.
There she stood, racked with worry and holding an empty hamster ball.
"WHERE IS HE?" We panicked.
"I don't know. He's not in his ball."
"We can see that, Lauren. WHERE IS HE?!"
Six year old sobs began to poor as we all began to frantically look for a cotton ball with legs, knowing we'd never see him again.
Days turned into weeks. Every time I went downstairs, I prepared myself for a lightening bolt flash of Cupcake sprinting through the house which in all honesty, completely freaked me out.
Lauren and her brothers tried to put hamster food out and pieces of fresh fruit, even opening the front door to his little hamster house with a ramp built up to it so he could climb in.
It was the saddest thing we had ever seen.
Finally, we'd all given up hope. All of us that it, except for Lauren. She continued to hope and pray, wanting desperately for Cupcake to still be alive.
Late one evening, she went downstairs, wanting to check his house one more time before going to bed.
Within three seconds, screams of, "CUPCAKE! CUPCAKE!" sounded as Adam and I shot down the stairs worried she'd finally found his dead little body somewhere in the room. Legs up.
If I wouldn't have seen it with my own eyes, I never would've believed it. There he was, in his cage like he'd been there the whole time as Lauren cheered and danced around the room.
He was a little smaller, probably from running free range for all that time, and I'd swear he looked furious that he'd been busted. He must've been scavenging on whatever they were putting in his cage, then sneaking out before morning, on total Rambo Hamster survival mode. I'd swear there was a little smudge of war paint under each eye.
How that thing lived all that time, boggles the mind. We were convinced he'd been long gone, but not Lauren. She never gave up hope.
It was a good lesson for us in having the faith of a child. Even when things don't even seem possible, never, ever, ever...give up.
And that holds entirely true, especially when you're a hamster.
KEEP VOTING by CLICKING below each day from any computer or phone! We're going up in rank because of YOU! Thank You!