You can't imagine how long I've waited to write this blog post. Years ago, we muddled down the center of Disney's Magic Kingdom trying to corral our two little boys, while I carried our third son in my arms.
Sparkles of shimmering hair and dresses danced about as mothers gracefully twirled their little girls around the crowd.
"What is this? Is there a pageant or something?" I wondered aloud to my husband.
Being so far removed from the concept of a daughter, I had never known of a place called, "Bibbidi, Bobbidi Boutique.
Asking one mother, she explained it as "The most fun her daughter had ever had."
humph. Having three boys, I conceded I would never know that experience.
That was, until now.
Six years have passed and we took our boys and little girl to Disney World and Universal Studios in Orlando, Florida. There's so much I'm itching to write about, from Star Wars to Harry Potter. The first of these however, is the last I ever thought possible.
Approaching Cinderella's castle, Lauren Elizabeth's little hand took mine. Her heart pounded with excitement and a bit of nervousness at the grandness of it all.
We waited until a "Fairy Godmother in Training" named, Nicole called her back. Nicole explained how she still needed to train for one thousand years before she could become an official Fairy Godmother, but as wonderful and endearing as she was, she'll have no trouble at all.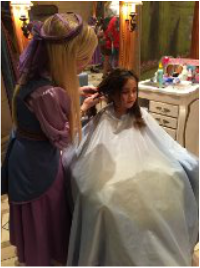 Nicole and her friend, Whitney began to primp and preen Lauren Elizabeth, transforming her into a little princess Belle, with sparkles from head to toe.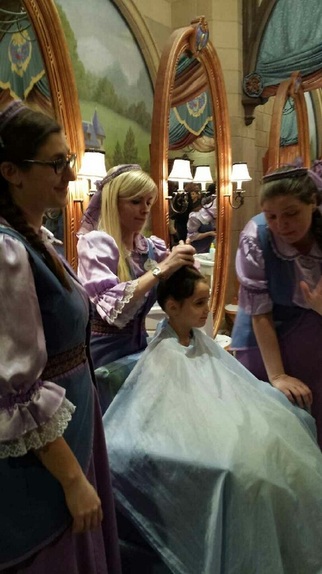 It was amazing how well they worked with her, with constant stories and jokes. Our little girl was mesmerized at the fun and wonder of it all. They were even good about including Lauren's big brothers, making it more of an experience than a simple appointment. It far outweighed any hope or expectation we'd ever thought possible.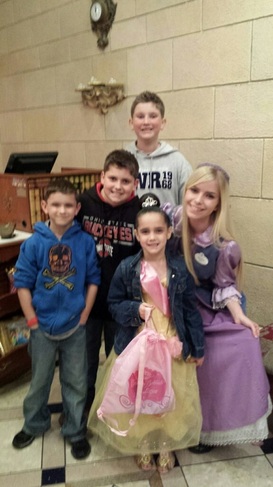 When they say Disney is where dreams come true, they weren't kidding. Lauren Elizabeth kept her hair in her sparkly bun for the car ride home to North Carolina and talked of nothing other than Nicole and Whitney. She couldn't believe she met Fairy Godmothers and we couldn't get over how magical the experience was.
Thank you Nicole and Whitney. You'll never know how much you meant to us or how you truly made dreams and wishes come true.
Please click the PINK BOX below to VOTE for our blog! XO