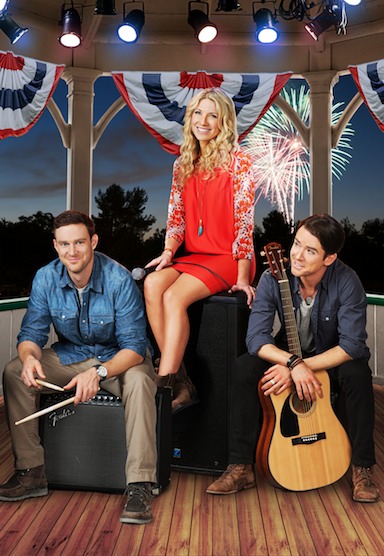 One of the best things about doing reviews for the Hallmark Channel is getting to watch their movies around the holidays. This 4th of July is no exception.
"Banner 4th of July" is a wonderful movie starring "American Idol" alum Brooke White, Oscar® and Golden Globe® winner Mercedes Ruehl, Christian Campbell of "Big Love" and Michael Barbuto from "An Old Fashioned Thanksgiving".
In the small town of Pinewood, Mayor Rosalind Banner (Reuhl) desperately seeks the reunion of her daughter Desiree (White) and two sons Mitchell (Campbell) and Johnny (Barbuto).
The brother/sister trio used to form a highly successful band named "The Banner Project", however it's been ten years since they've been together due to a falling out.
News of their Mother's heart attack brings them home to be by her side. Concerned for their Mother, the siblings are forced to revisit their past in hopes for a better future.
Little do they know that the town is in financial trouble and they could be the only ones to save it all...with the help of the ridiculously handsome town's attorney named Colin, that is.
"Banner 4th of July" is fabulously done with a dynamic cast that melds extremely well together. It premieres Saturday, June 29th 9 p.m. ET/PT, 8C on your local Hallmark channel.
I hope you'll enjoy it as much as I did. There's just something about curling up to a good movie to bring the holidays home.
Oh! And as an extra bonus, a movie Soundtrack EP is available now exclusively on the iTunes store:
iTunes.com/HallmarkChannel, iTunes.com/BrookeWhite).
If you liked our review, Please click the picture of the Mama below for a Vote! Thank You!!!