Something happened on Sunday that reminded me of years back, with anger.
While sitting in church this week, our sweet friends Jennifer and Jason held their beautiful baby girl in their arms. They have three boys, so it's beyond adorable to see them with their sweet Princess wrapped in pink.
Shortly into the service, little sounds were heard as their baby girl was letting her voice be known. I watched as Jennifer jumped immediately and shot to the back.
The church has what's called a "Cry Room", where a sound proof room is provided for people with children so they can be behind the congregation and listen, without being heard.
When we had our first baby, it was in Texas in an old beautiful stone church where the "cry room" was called the back door. I can't remember how many times I paced and walked outside with our first son, wondering why we even tried to go to church in the first place.
It wasn't like that at first. When he was a newborn and would fuss, I'd do everything I could in a panic to quiet him as to not interrupt the service. Beads of hormonal sweat would fill my brow as looks from others around would turn with either genuine smiles, or perturbed glances.
It was one Sunday. One Sunday that stood out. A little sharply dressed lady who was dripping in money approached after church. I thought she wanted to see our little boy the way she bee lined directly through the crowd.
Smiling, she put her bony hand on his back and leaned in, "I hear him during church, love."
Grinning back apologetically, I responded, "Yes, I think he wants to join the choir."
Her eyes narrowed as she lowered her hand, "Yes, well maybe he should join the nursery first. That is where babies belong, you know."
It was punch to my post baby flabby gut as my eyes teared and my husband (who heard none of it) turned to me in confusion.
Another older woman, who saw what had happened, immediately approached. Assuming it would become round two, I readied myself.
She looked even more feisty than the last, so I knew it would be worse.
"Ooooooooo don't you listen to her!" She started, "I've known her my whole life and she's always been a mean ol' thing."
A laugh escaped me as she reached for our baby's hand. Lovingly holding it, she continued, "There's nothing more precious than a baby. Their laugh...or their cry is a gift from God. Don't you ever forget that - and if this little one wants to do one or the other while he's here - well then you just let him. Forget about her. I'll take him from you any Sunday you'd like and we'll just smile at her together.
Hugging her tightly, I wish it would've erased the harshness from before. In her passive-aggressive way, that woman shifted a fear into my heart, so anytime our baby made a sound, I wanted to leap into our car and go. It genuinely made me not want to go back to the church, but we did. Week after week and I walked, time and again outside, taking turns with my husband.
Looking back, I wish we hadn't. Knowing it gave her complete satisfaction every time we jumped was bad enough, but we really missed that time each week together as a family.
Why didn't we just put him in the nursery? We just weren't ready. Some people can, others can't, but it's nice to see churches now with a Cry Room to act as that middle ground.
After church this week, I found myself with Jennifer saying the same thing as the woman from before. Hearing Jen's beautiful baby's voice was more musical than any hymn. Truly God's gift. I understand that now, being on the other side.
I'm sure there are still others who don't agree. There's a time and a place and church isn't one of them.
The one thing I'll never understand however, is in our church, wouldn't they agree, a baby is pretty much the biggest reason we should be there to begin with?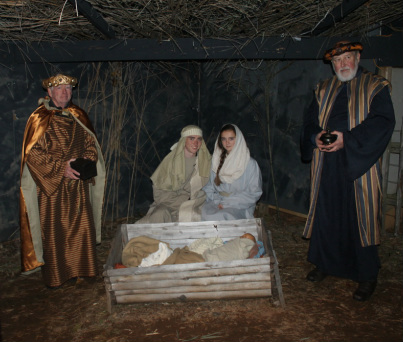 Please remember to click below to VOTE each day! Thank You!