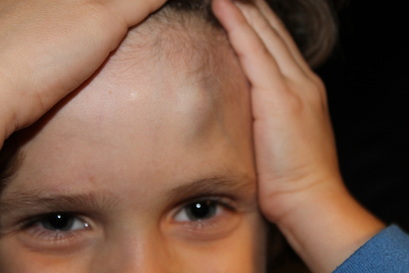 You know how with kids - you can tell how much something actually hurts by the amount of time it takes for them to start crying after the pain?
Take today for instance...my parents were visiting and the kids were playing. Mom and I were working on a scrapbook as the kids ran around the house. Christian is learning how to zoom in his wheelchair pretty well since his foot surgery, so evidently, he and Preston were having a race. Out of nowhere, there was a big "THUD". It sounded like whatever it was, couldn't have been good - but there was no cry. (Wait for it...) WWWAAAAAAAH! Little Preston started screaming like a madman and we knew by the amount of dead air it took between the thud and the scream, that it must have been something major.
"WHAT HAPPENED?!" As we ran to survey the damage. Big brother Christian looked at us with a guilty shrug and muttered, "Uhhh, well, we were just having a race and then, um, Preston was watching where I was going but, well, then he ran into the wall by mistake." (Seriously?)
As we tried to pry Preston's freakishly strong hold off from his forehead, we could tell there was already a big goose egg starting to grow.
It took no time at all for Christian to call for his younger brother, Ethan, to come check out the "cool" knot that was growing on their little brother's head. Enjoying the undivided attention, Preston suddenly got the biggest smile on his face and his tears began to dry. For the rest of the night, he wore his big bump like it was a badge of honor.
I never thought we would have to establish a rule of: "No playing chase or racing with the wheelchair" but sure enough, there it is.
With that being said, you never want your kids to get hurt. It's almost always worse when there's that lag time between the incident and the cry though. I don't know why it happens, but I sure do hate it when it does.