All last week one of my best friends from home in Ohio came to visit. Her name is Tanya and it was such a great time having her family here in NC.
During one of the evenings though, a pretty nasty looking storm started to come in...fast. With the clouds pushing towards us and the winds picking up, Tanya and I gave each other a concerned glance.
Out of nowhere, the whole house went out. The TV, lights, air conditioning...everything went silent and the power was gone. Tanya has two cute girls, Emma and Molly - and between the six kids we began to get a little worried. Both of our husbands were working, so it was time for the two of us to hold down the fort.
My five year old asked, "Mommy? Is a mortato coming?"
"No sweetie...there's no tornado coming. Let's stick together and everything will be fine."
"Why is everything turned off? What's happening?"
"It's okay guys. The power will come on soon enough. Don't worry."
Rain began to pound the house and the kids became more and more nervous. I'll have to admit, I did too.
Just then, Adam ran through the front door drenched. "Man, it's coming down hard! What's with the lights?"
"Everything's out. How bad is the storm? We can't check anything without the power."
Looking at his phone, Adam said that the storm would be over soon.
He was right. Before we knew it, the sky cleared. The kids went out and the air smelled clean and new.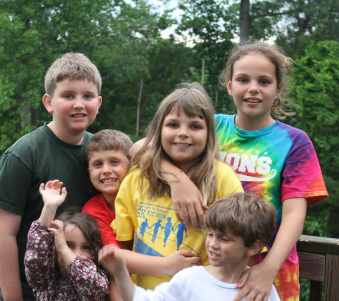 "When do the lights come back?"
"We don't know guys, we'll have to wait and see."
Realizing that it was getting late, we knew that we had six hungry kids to feed. Tanya turned with a smile and said, "You have a grill, right?"
"Yeaaaah?"
"Good. We've got this."
Pulling a meal together, green peppers, onions, hamburgers and baked potatoes grilled outside, while inside, we cut watermelon by candlelight and made baked beans and corn on the cob on the gas stove. It felt like camping out in our house.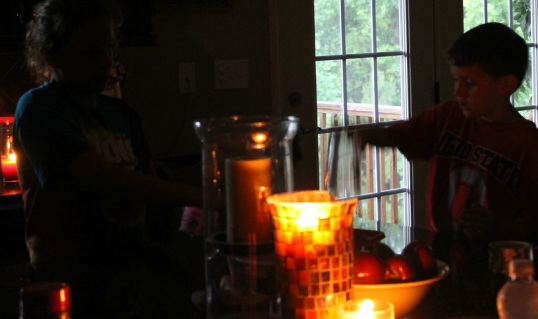 When the food was ready, we sat around the table to try it out...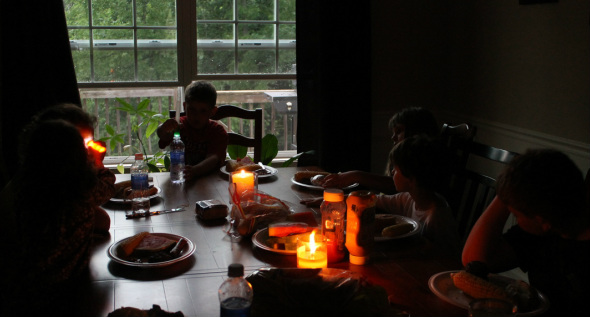 It was Awesome. It was a night to remember of food, fun and great friends.
The power company guys showed up a few hours later so we sat outside and ate bowls of melted ice cream to watch what they did.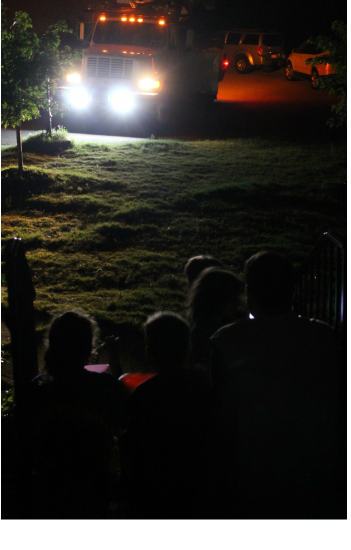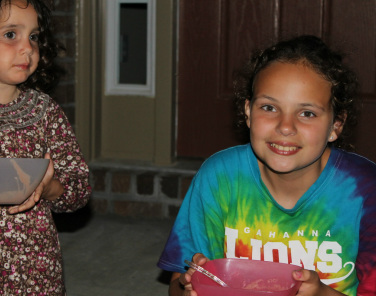 A little while later, the power came on thanks to the work of the men and so many hard working people.
We Miss You Tanya, David, Emma and Molly! Thank You for visiting! Come back soon! (and we'll leave the lights on for you.)
Please click the picture of this Mama for a Vote! Thank You!