"FIIIRRRREEE! Mommy there's a FIRE! RUN! RUN!!!"
Yes, this was our night. Perhaps it would help if I go back a little.
Wanting to give Adam a surprise, I decided to make his favorite dessert...strawberry cheesecake.
Taking the kids with me to the grocery store this afternoon, I grabbed what we needed to make a full home cooked dinner. Meatloaf, mashed potatoes, corn on the cob and grilled vegetables.
On our drive home, Adam called saying how hungry he was and I smiled telling him how much he would love his surprise.
Unloading the groceries, our little girl and I got started right away. We began to make the dessert first so it would chill while we worked on dinner. I have a cheesecake recipe that is ridiculously good. It's been passed down through my family, but it requires that you turn the oven up to 500 degrees for the last five minutes of baking. No big deal.
It IS a big deal when there's evidently food that's spilled on the bottom of your oven though. Do you know what happens to that food when you crank your oven up to 500 degrees? You guessed it. Boom. The whole thing lit up. I couldn't believe how engulfed in flames the entire inside of the oven became or how fast the house filled with smoke.
The boys ran in screaming as I yelled for them to go outside and take their sister. They wanted me to go with them but I tried to stay in to figure out what to do. Reaching for the phone, the whole "auto-pilot" thing took over and I called "911".
"What's your emergency?"
"Ummm...it's not an EMERGENCY I don't think...I just don't know what to do."
"Ma'am, what is your address please?"
"Oh, I don't think you need to send anyone...it's just that, well, the inside of my oven is on fire right now and I'm not sure whether I should wait to see if it will die down or if I should open the door and go for it with an extinguisher."
"Ma'am, PLEASE state your address and phone number."
The fire was getting stronger and I started to get a little more nervous. Our little girl was in the front yard crying for me to come outside.
That's when it hit me.
It's a GAS oven. It's the first time we've ever had a gas oven but it doesn't take a rocket scientist to know that gas and an open fire are probably not the best combination.
I held my breath and winced as I ran towards the oven to shut it off, hoping to cut off the gas supply.
"Are you out of the house Ma'am? Please get out of the house."
"No, I'm still here but I'm going."
"Ma'am, get OUT of the house. Help is on the way."
Going through the front door, I took in a deep breath of air. My chest ached from the smoke and the house screamed with alarms going off.
Looking up, I saw Adam pull into the driveway, barely turning the car off before he jumped out. The four kids ran to him yelling, "There's a FIRE Daddy, there's a FIRE!"
Neighbors began to come out one by one to see what was going on. Sirens began from the near distance.
Half scared to death, half wanting to cry from embarrassment, I realized that I was shaking.
"WHAT is HAPPENING?" He yelled as he began to run into the house. Lights and sirens suddenly approached. A Fire truck, an Ambulance and then a Police car raced to a halt.
Looking at Adam I shook my head. "I can't believe this."
A neighbor took the kids down the street as I explained to the men going into our house. It was hard to breath. The house was even more full of smoke.
The men stayed inside for what seemed like forever until they finally stated that everything was alright. They hooked up a neat device to pull out a lot of the smoke, so I went to our neighbor's house to get the kids.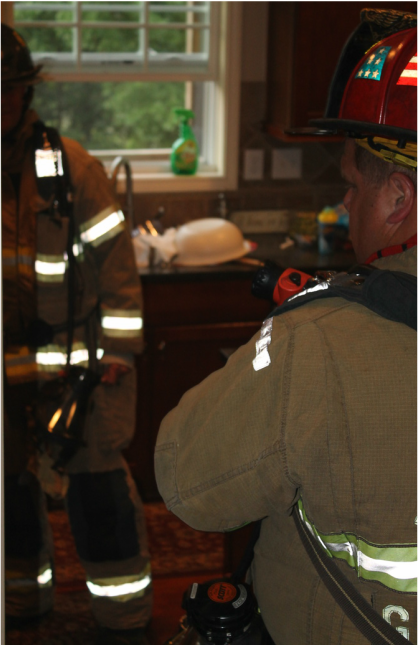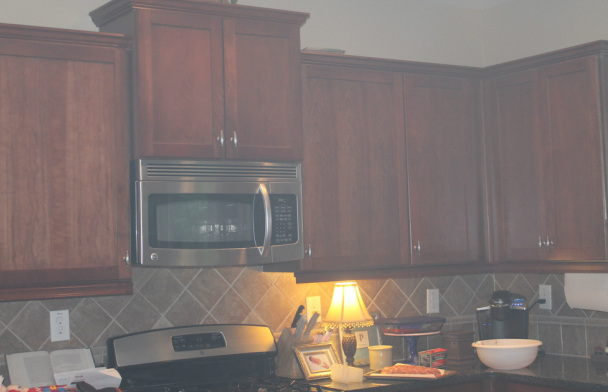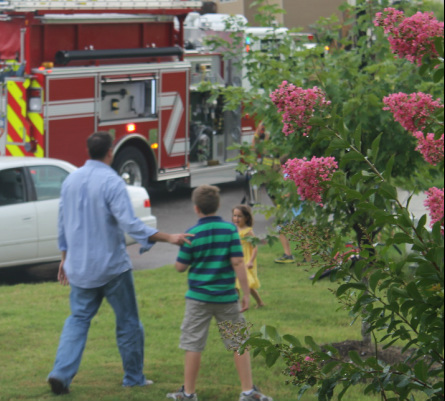 When everyone left, we checked the inside of the oven. It's fried. I don't even know what to do with it. It's completely black and charred. Adam disconnected the oven from behind the wall and cut the gas supply off just in case. We took one look at each other and decided to head out for pizza.
Jumping in the car, the kids were going a mile a minute with questions like, "How long will our house stink?" and "How do we know that the oven won't catch on fire again?"
Still somewhat numb from disbelief, I looked towards Adam as he drove. He smiled at me and shook his head. "I'm glad you guys are okay. You scared me to death."
Shooting him a half grin, I whispered, "Surprise."
Raising an eyebrow he quipped, "No more cheesecake, okay? Never, ever make a cheesecake."
And I think I never will.