Our youngest son Preston, goes to a preschool that has a Wonderful teacher and class of great kids.
In December, their class had a Christmas pageant that was adorable.
http://www.peanutbutterhair.com/1/post/2012/12/the-best-christmas-pageant-ever.html
Preston practiced and practiced his line for the Christmas play and he was ready. Growing so excited about the big day, when it finally came, he simply stood there with a blank stare and said nothing...at all. No lines, no words...not even a sound. I wanted to run up and help him but it was useless. Everything went by in a flash.
Fast forward to this week and the time came for...the Easter play. It's hard to believe that just three short months ago, Preston was the same kid that was standing on the stage.
This time, there were no "deer in the headlights" stares, no blank expressions. No, no. You know "that kid" when you go to a school play who acts like a goofball the whole time? yep. There we go. He was wiggly. He was silly and squishing nose to nose with the kid beside him, then giggling. I actually worried THIS time for his part to happen for the opposite reason.
Sure enough, when the time came, he was supposed to pick a picture up from the floor in front of him then say his line. Every kid in his class did exactly that - but when Preston's turn approached, he picked up his picture, put it (where else) but on his head, pulled it back down, then said his line at warp speed.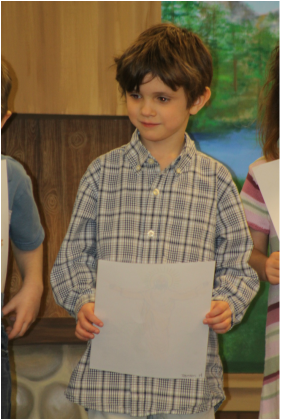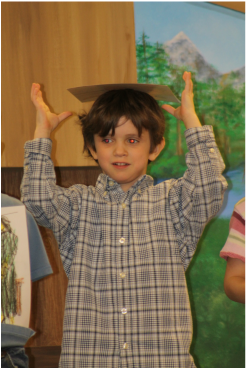 What goes through the mind of a preschool boy? One may never know. They can be quiet, shy, wild or crazy...sometimes a little bit of everything. Just when you think you have them all figured out, they can go and totally surprise you.
No matter what though, they're full of love and spirit...from their head to their toes...and back on top of their heads again.