The boys finished their soccer season for the year. As much as I was born and raised to love the game of football, I'll have to admit, it was one of the coolest seasons ever. All of the kids from both teams grew together and had such a great time.
To help celebrate the end of the season, I happened to find a cool cake pan that was in the form of a soccer ball. I was so excited to try it and see if it would really work. The cake pan came in two halves and when baked and cooled, went together with icing to form a perfect sphere. I could just see the kids go crazy over it and wonder how they had such a super magician mom who could actually bake a cake in the shape of a ball.
Everything looked like it was going great and the house smelled amazing as the two halves baked into sports perfection. I took the pans out for the cake halves to cool and waited for the chance to frost them.
When the time came, I flipped them onto the counter. One half turned out perfectly while the other half turned into nothing less than a science experiment. It started to cave in through the middle while chocolate ooze started to fill in the hole. It was hard to decide how something that smelled so delicious could look like some strange life form.
Having one good half, I did what any other parent would do when set on party mission mode. I iced it and tried to decorate with whatever was left.
After dinner it was still fun to see their faces when I put the chopped-in-half soccer ball cake on the table. They didn't know the difference (and probably didn't care) because after all, cake is cake.
I washed the half round pans and put them away on a shelf until next time. Come to think of it...basketball season will be starting up soon. I'm sure it couldn't be too hard to try and make orange frosting to give it another try.
Until we meet again, impossible round cake, until we meet again.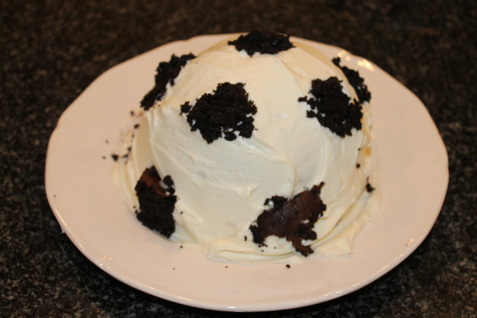 Sad attempt at a soccer ball cake with what was left of the other chocolate cake half as the decoration.