The house doesn't smell like smoke anymore...at least I don't think it does. For the past couple of nights though, the kids have been worried to go to sleep, asking if there could be a fire again.
We decided to take them to the fire station to meet the men who arrived on call. We took a few pizzas (and fire hot sauce because Adam has a sense of humor) to the guys to say "Thank you". We hoped that it would let the kids see the men as the kind and friendly people that they were. It might even take some of their fear away of "the big guys" that ran into our house.
The firemen were getting ready for dinner when we showed up with the pizzas so they seemed to be surprised and genuinely grateful.
The men gave the kids a tour, showing them the cool weight room, kitchen, conference room and then the big daddy area of them all...where they kept the fire trucks.
All four kids let out a simultaneous, "Whooooaaa" as they gazed at the shiny red perfection.
The kids were allowed to sit and pretend to drive the big truck, look at the equipment and ask a hundred questions. The firemen went above and beyond and ended up taking so much of our little ones worry away.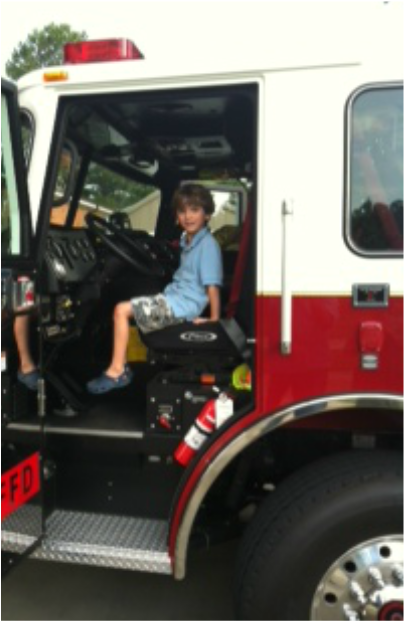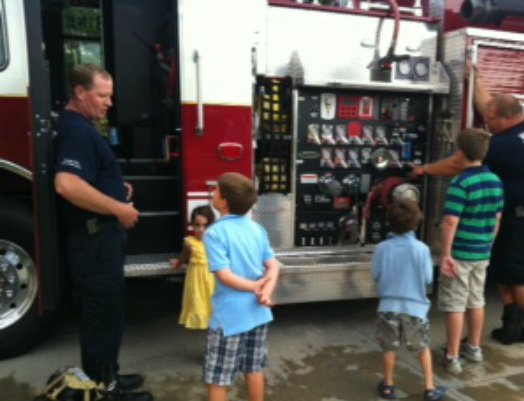 It truly takes a certain kind of person to put his or her own life at risk to help others. It seems like so many times, the men and women who are there to keep us safe are taken for granted.
Thank you to those of you who help and serve in every sense of the word. There's not enough pizza (or hot sauce) in the world to show the amount of appreciation that you deserve.
If you like our little blog, Please -click- the link below. Thank You!