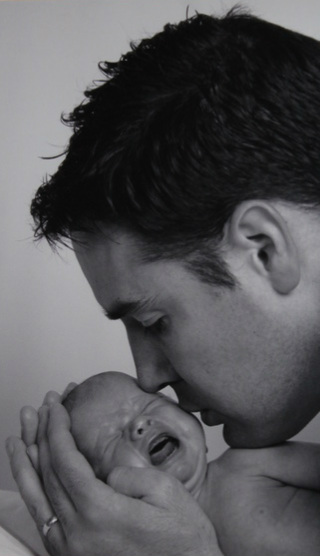 Adam with Preston, July, 2007
The boys had their back to school pictures this week. I spent the night before, carefully picking out their outfits and as I ironed them, had memories of their
"Picture Days" in years past.
We've never had the best luck with an organized photo session. Even when the kids were babies and had their milestone pictures taken, (newborn, one month, three months, six months, etc.) we were that family that had the screaming baby.
This actually started to become a pattern, so much so, that we began to believe that it was normal. (Babies just cry at photo shoots. They don't like the lights or something.)
I guess that we had convinced ourselves of this, until one time when we happened to come across a sweet little baby boy that was scheduled for his photo session right before we were. You guessed it...he was a perfect Angel. We couldn't believe it. Here we were with our screaming banshee baby while he was as sweet and as calm as the day is long.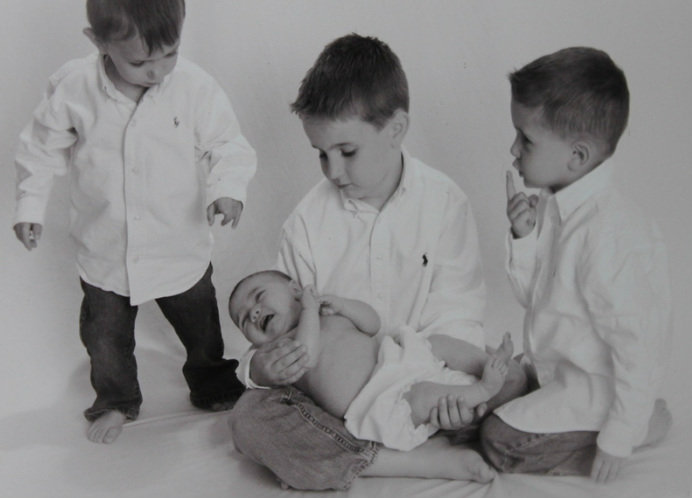 2009, Christian 5, Ethan 3, Preston 1 and Lauren Elizabeth newborn.
It didn't stop at photo sessions though...no. It got to the point that if we went anywhere, a fair, an amusement park or heaven forbid...DisneyWorld...whoever our youngest was at the time, would all but go crazy when we tried to get them by a character to take a picture.
My husband came up with a great idea that has now come to be known as "the floating baby pictures." Adam would sneak behind the character, (Woody or Buzz, Mickey Mouse, Santa...don't even get me started on Santa Claus) and he would hold the baby out to the side. It was kind of like a sneak attack to make sure that all of the kids were in the picture. As we went back to look through the shots though, we would all but laugh our heads off as we noticed that each picture had this mysterious floating baby hanging over to the side. In almost every one, the "floating baby" would either be screaming their head off, or giving a look of, "What in the world is going on?"
It's hard to believe that those days are over for our boys now and they actually had their school pictures taken like big guys. I can't help but wonder what to expect when that packet of pictures shows up in their backpacks a few weeks from now though.
If they have a far off look with a lean to one side as if they're hanging in mid-air...at least we'll know why.