My mom has to get surgery today. She likes to ride her bike in the mornings down this road...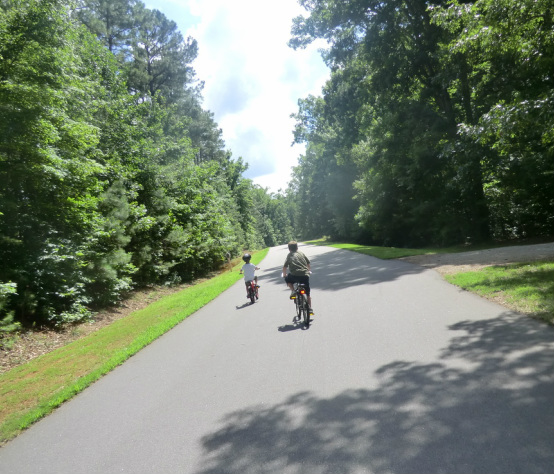 ...and she's been doing this for years.
As you can see, it's not a busy road. It's out in the country and you'd be hard pressed to see a car or two. What you DO see though, are a lot of animals.
Squirrels, rabbits, deer are not uncommon in this area. Mom rides with their dog by her side to keep her company and they enjoy their morning routine.
A few days back though, another dog ran out and ran right into her. The dog nailed her bike which flipped her over, landing in the road. She was by herself and didn't have her cell phone so she picked the bike up and pushed it home.
Her helmet was on but she still managed to bang up her right leg, ribs, arm and a little of her face. She said that her head hit last but there was still swelling by her eye from where her glasses took the impact.
She's been healing and hobbling around but her leg has gotten worse.
Mom can be as stubborn as they come so she has refused to go to the doctor. No matter what we said, she would reply (in her New Jersey accent) "Ehhh, what are they going to do? If I cracked a rib, it's not like they're going to put me in a cast or anything."
I ended up talking her into coming to work with me and some of the Physical and Occupational Therapists took a look at her. Thank God they did because they told her to see a doctor and she actually listened.
Evidently, the swelling in her leg is the main concern since from the knee down, it's turning different colors now. The doctor tried to aspirate or lance it two days ago but decided to turn to surgery instead in fear of a blood clot. I think it's a pretty simple procedure but it's hard to see your mom have to have anything done regardless.
It's a relief to know that she's finally getting things taken care of. With her though, she'll be right back on her bike within a week or two.
I know that anything can happen in life. One minute you can be enjoying a bike ride...and the next...
You can't live your life in fear but it's so important to love your family and friends with all of your heart. You never know what may come.
Get better SOON Mom. You're the toughest person I know. I'm making a jumpsuit out of duct tape and bubble wrap for you though. Happy riding.
Please click on the picture of this Mom for a Vote! Thank You!