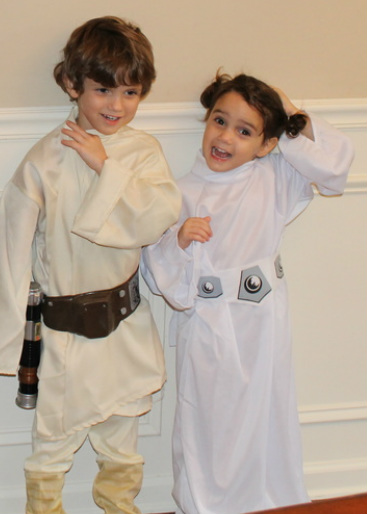 Preston and Lauren have been wearing their Halloween costumes non-stop, just waiting for October 31st to get here.
Preston has been full of questions about Star Wars lately, wondering such things as - if Luke Skywalker's best friend was Han Solo or Obi-Wan Kenobi. Was Princess Leia his sister and if so, then who was their mom?
He's really getting into the world of Star Wars which is fun...fun that is - until today when the mother of all Star Wars questions came out. "Who is Luke Skywalker's Dad?" I gulped as he looked at me with his big wondering eyes. I didn't know what to say. "Ummmm, er, uhhhhh..." The last thing I wanted to do was to crush his little Skywalker spirit and blurt out that it's the bad guy of all bad guys himself...Darth Vader. How could he understand that? How could the evil Darth be the FATHER of all that is good?
I quickly asked Preston where his light saber was and told him that he needed to go and find it...fast! As he ran off, I couldn't help but grin and shake my head. At least there will be one more day in a galaxy far, far away that a five year old little boy will only know of "good guys" and "bad guys" without much confusion in between. To tell the truth, I'd actually rather have him watch the movie and hear the iconic line first hand. That will be a little time from now when he's older though.
Until then, I know of one little Luke Skywalker that will be counting the few days left until he can conquer planets full of chocolate and candy, one front porch at a time.