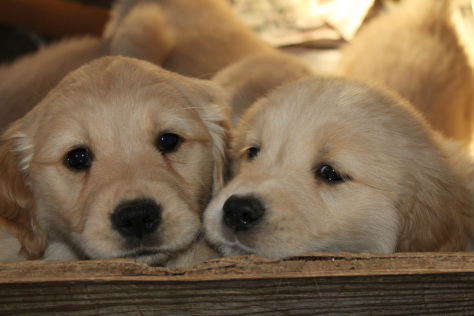 For about three or four years I've been trying to convince my husband that getting a family dog would be a good idea. I think a dog would be a loving part of our family, a companion for the kids, and a good way to teach them responsibility.
"Are you NUTS?!" Is usually the response I get. He sees a dog as a lot of work, maintenance and added chaos to our house. (humph.)
I've been talking with a really nice woman for a few months who has the cutest and sweetest golden retrievers. She actually called a few weeks back and said that one of her females was having puppies. I began immediately trying to sweet talk my husband into getting one. We stood in the kitchen and he looked at me with bewilderment. "No. Absolutely NO! This house is already crazy enough with the four kids and you want to get a PUPPY?!"
I know in my head that he's right. We already have enough to deal with in the madness of our daily lives. My heart keeps telling me that the kids would have so much fun growing up with a dog though.
All four of them talk about a family dog constantly and even have their top two names picked out. They've pulled it down to "Sugar" and our three year old little girl's personal favorite, "Kitty." (Thank you, Disney's Monsters, Inc.)
Believe it or not, the five of us actually began to wear my husband down. Just this week he gave me the go ahead to call about the puppies. As I dialed the phone I could barely contain myself. When the woman answered, I asked how the puppies were doing and if we could come and see them when they were old enough. She was so nice and assured me that the kids could come sometime in August to play with the litter. I became even more excited and began to imagine the fun it was going to be to decide which one to take home..."They're all sold though..."
"What?"
"Oh, that's why I called you before they were born! They go fast! Yes, they're all sold but you can still come and see them!"
My heart sank.
I hung up the phone and told my husband and kids that the puppies were sold. I think he was taken back and I swear I even saw a bit of sadness in his eyes. The kids were upset but we explained that we would just wait a little while longer.
Maybe someday we'll get a family dog. I hope it won't be too long from now though. Then again, it might be a good thing to have time to change our daughter's mind.
I could only imagine the stares we would get as we walked our puppy down the street saying, "Here Kitty, Kitty!"