Growing up, my mom LOVED the holidays. I guess you could say that I picked this up from her. I can hardly wait until the next holiday arrives.
Valentine's Day is no exception. There's a certain feel that comes when the aisles at the store are decked out in red and pink.
This year, the boys were excited too, because they got to pick out their own Valentines for their friends at school. Christian found a dinosaur pack, Ethan found a Ninjago set and Preston...all but screamed when he found some Spider-Man cards. This will be Preston's first year to give Valentines to his friends in Preschool.
When we got home, he ran upstairs to put his Spider-Man costume on, then came back down to sit at the table with his two big brothers. The three boys began to diligently fill out their cards.
"Okay Buddy. This says "To" and on the other side, it says "From". Write under the word "From" on every card alright?"
"Okay...got it."
His little Spidey self carefully worked on each and every card. 16 of them to be exact. One by one, he completed the Valentines while announcing, "DONE!" after each card.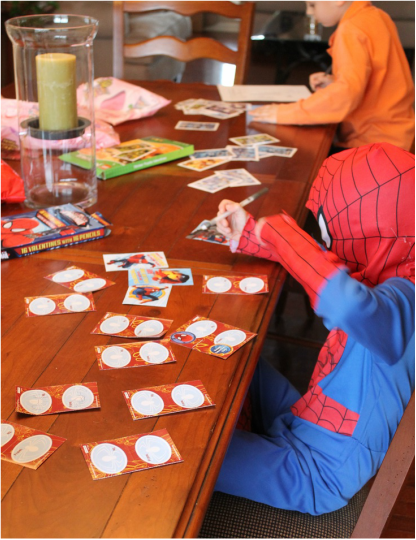 Christian and Ethan finished long before Preston was even close, but it didn't stop him. He wrote as meticulously as he could until the end.
"Mommy! Look! I did it!"
"Good job Buddy. Let me see."
Picking up a card, it read, "From: From". Looking at all the others, Preston had written "From" instead of his name on all 16 of them.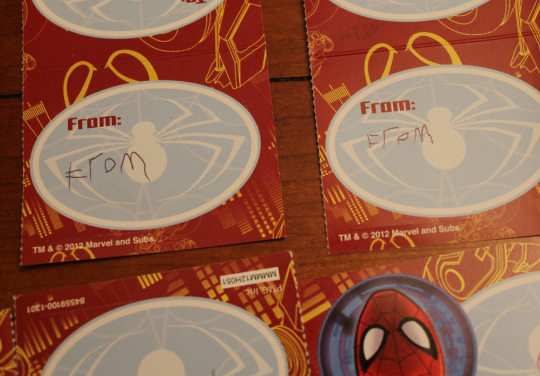 Beaming from his work, he jumped out of his chair, pulled his mask off and sighed. "That was a lot of work!"
Rustling my hand through his bangs, I gave him a kiss. "Your friends are going to love them Little Man. Good job." Putting his mask back on, he ran off to play.
No matter what Valentine's Day may bring you this year, we hope it will be one full of love and laughter. Even if things aren't exactly perfect, it's always the thought that counts.
May you have the HAPPIEST of VALENTINE'S DAYS!
From: From