Happy Birthday America! If you're heading to a cook out or picnic today, here's an easy and fun idea from Skyla Stark's facebook page.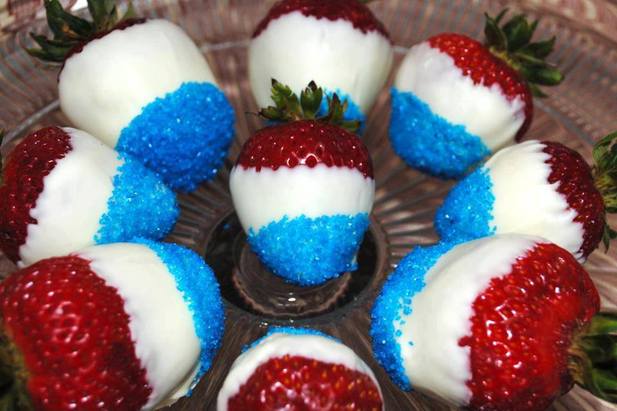 How CUTE are these? Skyla was kind enough to let me post this idea and the directions as follows:
Strawberries, washed and dried
White chocolate
Blue sugar, edible glitter, or sprinkles (blue sugar is shown in
the picture)
Place blue sugar in a bowl. In a separate bowl, melt
the chocolate in the microwave on 50% power for two
minutes.
Stir until the bowl is no longer warm. Then microwave for
30 second intervals at 50% power, stirring after each, until
the chocolate is completely melted. Dip the lower two thirds of
the strawberries in the melted white chocolate. Then, dip the
lower third of the strawberries in the blue sugar or spoon it
onto the strawberry. Place on wax paper or silpat until
completely cool.
Thank You for the Great idea Skyla! You can find more ideas like this on Skyla's fb page at:
https://www.facebook.com/starkravin1
Have a Happy 4th of July!
If you like our little blog, Please click on the picture of this Mama for a Vote! Thank You!