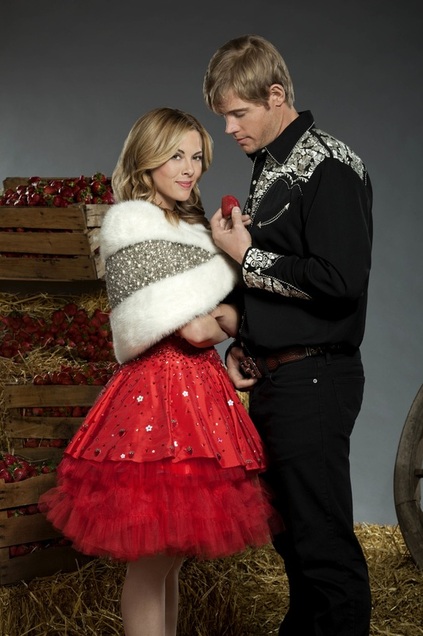 The World Premiere of "Strawberry Summer," a Hallmark Movie Channel Original will air this Saturday, August 25 (8p.m. ET/PT, 7C).
"Strawberry Summer" is a sweet story that has Emmy® and two-time Golden Globe® winning actress Shelley Long ("Cheers") and Golden Globe® nominated actress Cindy Williams ("Laverne & Shirley") starring alongside Julie Mond ("Love Begins," "Love's Everlasting Courage") and Trevor Donovan ("90210").
It's a romantic summer movie about a small town's annual Strawberry Festival. The main character is a high school music teacher named Beth Landon (Mond). She invites the really good-looking country singer Jason Keith (Donovan) to perform as the main event.
The only thing is, Jason has a pretty bad reputation for cancelling shows and having a major attitude. Beth's mother, Eileen (Long), is somewhat worried about the music star and has concerns about the possibility that he won't show up for the big concert. She and her best friend Ruth, (Williams) have worked hard towards the success of the festival and don't want to see the town let down by the singer.
The music teacher Beth, is the reigning Strawberry Queen and tries to stick up for her favorite singer. When she finally meets him in person however, she realizes that things might be harder than she had originally planned.
Beth and Jason spend the week of the Strawberry Festival together, finding out about each other and themselves. Jason's manager Ray (Jilon VanOver, "Hatfields & McCoys") comes back to town at the end of the week to discover a different man.
The movie has some great music and also features an original song composed by Nathan Furst and Trevor Donovan with lyrics by Gary Goldstein.
So this Saturday, grab yourself a bowl of fresh strawberries and be sure to watch the World Premiere of "Strawberry Summer," a Hallmark Movie Channel Original, at 8p.m. ET/PT, 7C.