Sometimes it feels like we're crazy busy. I mean, like - CRAZY busy. Between work, school, sports and everything else, there's barely time to take a breath.
When Adam's parents called from Texas saying that they were going to come for a visit, our first reaction was excitement, but our second...was - "oooooh no".
When people from out of state come all that way, the perfect case scenario would be to sit and enjoy the stay, spending time to catch up with each other. The last thing you want to do is to run around the whole time.
I worried, realizing how many things we had planned for the weekend alone...Friday night football practice, Saturday morning football game for Preston, mid-morning football game for Ethan, Saturday afternoon birthday party for Christian, Sunday morning lesson plans for the class we teach at church, Sunday afternoon team football pictures for the boys...not to mention homework, piano lessons...blah, blah, blah.
I asked Adam what we should do with everything while they were here. It felt rude to be so busy. I thought we should have carved the time out to skip games and such, just to just be with them.
Adam's response? - "What do you mean? They'll just run around with us."
(nice.) I'm sure that's exactly what his parents would want to do after driving half way across the country.
Sure enough, when they got here, they hit the ground running and spent our wild, fun-filled, non-stop days with us. It was truly wonderful to see them and I can only hope they didn't go home with their heads spinning.
The kids had such a blast spending time with their Grandparents and it actually turned out to be pretty cool for the boys to have them there to watch their games and to be at their birthday party.
So Thank You for coming all the way to North Carolina for this wild crew Mom and Dad! (You're very, very brave.) We Miss You already and can't wait to see you again!!! Love, Love, Love You!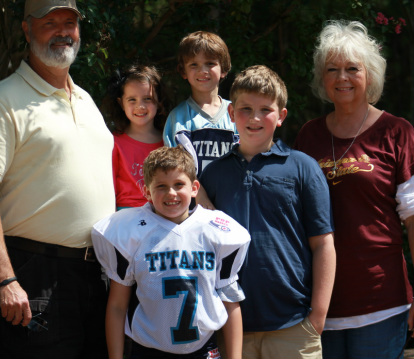 VOTE! VOTE! VOTE! VOTE! Thank You! : )