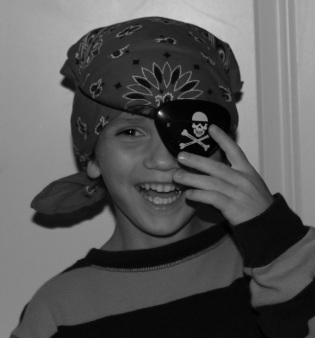 A couple of days ago, it was "Talk Like a Pirate Day". What IS "Talk Like a Pirate Day?" I had never heard of it, but it sounded pretty self-explanatory. Did it also sound like fun? Aaaaaaarrrrgh YES! The BEST part about "Talk Like a Pirate Day" was when I found out that if you went to a Krispy Kreme doughnut store and talked like a Pirate, you would get a free doughnut. If you DRESSED like a Pirate, you would get a DOZEN free doughnuts. How cool is that? Well...wait a minute.
I told the kids about it and watched as they struggled to decide which was better...grabbing their swords and eye patches to swashbuckle their way around town, or getting a box of one of God's finest creations all warm and sugary.
As the four of them got ready, we waited, and waited, and waited for Adam to get home. He had no idea what he was about to come home to after a long day of work, but when he opened the door and a crew full of little scurvy Pirates screamed and swung their swords at him, all he could do was look at me with bewilderment. I smiled and yelled over the kids, "We need to jump in the car because Krispy Kreme is giving free doughnuts for dressing like a Pirate today!" Still dodging stabwounds, he yelled back, "REALLY? Because they NEED doughnuts right now?!"
Good point. Regardless, we managed to get them into the car and head over to the store. Pulling into the parking lot, there was a line that was formed all the way OUT of the building. nice. Adam looked at me and asked, "Do we have to do this?" We both had visions of waiting in line for well over a half an hour while trying to contain Jack Sparrow and his Mateys. "Let's give it a try and see how fast the line moves. It might not be too bad." I weakly replied.
Getting out of the car, we shuffled towards the line and began to wait. Adam gave me that "look". I agreed with him that this was getting to the crazy point. Were a dozen free doughnuts worth all of this? Ummmm, yes.
Out of nowhere, I could see the faces of kids from the front of the line inside the store, turn towards their parents, each starting to pitch a fit. Some were crying, some stomping. The meltdowns were headed our way at warp speed until right in front of our crew, I overheard a mom tell her kids, "They're saying that they ran out of doughnuts." WHAT?! There's no way. Wondering if our kids heard her too, I quickly inched my way through the crowd and opened the store door, asking a woman who worked there if the news was true. In her kindest North Carolina accent, she said, "Yes, it's true. We ran out of doughnuts. Sorry!" Shiver me timbers.
Going back outside, I had to break the news to four little Pirates as their single unpatched eyes looked up at me, swords fallen. I thought that Adam was going to go nuts. He did a good job with damage control instead, telling the kids that they could dress up another day and try again.
All six of us got back in the car and went home -treasureless.
We haven't gone back to get doughnuts yet. Maybe one day soon we'll give it a go. I guess the best (or worst) thing that came out of it all though, is that our five year old has now decided to grow up and become a Pirate. He has worn his gear non-stop since that doughnutless night.
So...if you happen to be at Krispy Kreme anytime soon and you see a five year old Pirate still running around in search of his golden round treasure, you'll know exactly who it is. Aaaaaarrrrrgh.