"MOMMY?! Could I have a CUPCAKE?!"
"Sure Baby Girl."
Knowing that we didn't have any cupcakes in the house, it didn't worry me when our four year old little girl yelled up the stairs. She often "makes" cookies, cakes and cupcakes with her pretend food and then "eats" them during a tea party.
Heading down the stairs, I expected her typical set up of little pink plates and cups with spoons, but there was nothing. Turning to Lauren Elizabeth, I saw white on her face and squinted trying to figure out what was.
"Lauren?"
"Yes Mommy?"
"What did you just eat?"
"A cupcake."
Just then, I turned to see what looked like a cupcake with a little plastic ring beside it. (What in the...)
Picking the ring up, it was a football. The only rings we had like that were from her big brother Ethan's birthday party...BACK IN APRIL..."LAUREN! Did you EAT THIS?!"
"Yep."
"WHERE DID YOU GET IT?!"
Suddenly looking reserved, she pointed to the other room...the dining room. There, she took me to a box that had a few left over (hard as your head) cupcakes that someone put on the seat of a chair and pushed under the table.
We eat meals in the kitchen and next to never go in the dining room. Those cupcakes had been sitting there for over a month and the scary thing was that they looked as pretty as the day we bought them.
Needless to say, I had to assume the worst and think that she ate a whole one. Asking her, she shook her head 'no' and said, "Just a little bit".
I hate to admit this - but if it would have been our first time at this rodeo, I would have run to the emergency room with her so fast that her head would have spun. Being that she is our fourth child...I watched her throughout the morning and she was fine.
Throwing the cupcakes away, I still couldn't believe how perfect they looked. It only made me wonder what kind of preservatives were in them.
As the last one hit the trash, I heard..."Mommy? Can I have another cupcake?"
"Not one of these Lauren. Let's go have a tea party."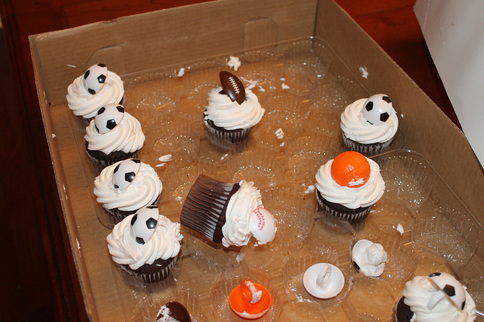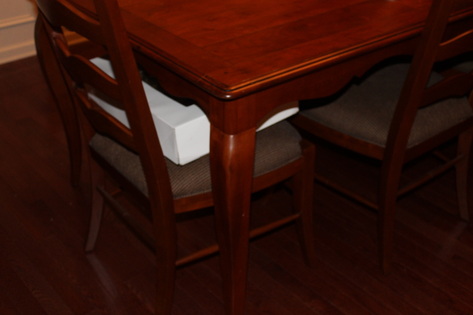 Please Click this Mama to Vote! Any different computer or cell phone counts as a New Vote each day! Thank You!