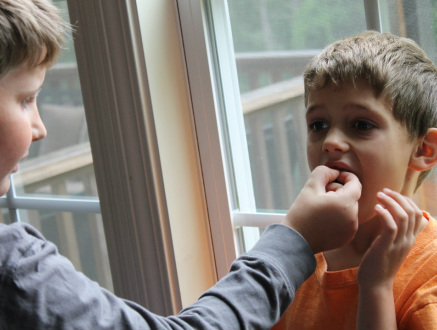 "Allllllmost got it!" Christian said as he wiggled Ethan's front top tooth. Christian considers himself somewhat of a pro at this...having lost eight teeth himself already.
Ethan's top tooth is hanging there. It's literally just hanging there by a thread, freakishly and somewhat unnatural looking. When he talks - all I can see is his little baby tooth flapping in the wind begging to come out. It's like it's taunting me.
We've considered everything from the string around the doorknob to the biting down on an apple. It can't possibly hang there much longer.
The cutest thing about the kids is watching their excitement for the arrival of the Tooth Fairy. When a tooth is lost, it's so hard to get all four of them to go to sleep. My husband and I listen as they giggle and whisper about her possible arrival. They leave their window open just a little so she can find her way in and then they write a note to her. I previously wrote about how they have even squished chewed up bubble gum into the carpet around the bed to try to catch her. "I don't think she stands guys...I think she just flies in and then back out...she's a busy girl you know!"
The kids have worked on Ethan's tooth all day today. I hope that it will be out by tonight. With the amount of little teeth in this house, I imagine the poor Tooth Fairy is bound to rack up some frequent flyer miles within the next few years. I'm sure she'd agree though that it's worth it, just to see the smiles on those toothless little faces when she's gone.