The smell of hot dogs and popcorn are the air. The crack of the bat, cheering crowds and warm summer nights. It's baseball season.
Our younger two are on the same T-ball team. It's the second year for our five year old son and the first year for our four year old daughter. It's actually the first time she's played any sport. We THOUGHT that she would love finally getting off the sidelines and playing for once, but were surprised at her reaction.
She's just about the smallest thing on the team being that she just turned four and most of the kids are boys. That doesn't seem to phase her though.
What she DOESN'T seem to like, is being out 'there' all alone. If you tell her to go out on the field, she takes one look and says, "I don't want to."
We wondered what game day would bring...it finally came.
Putting Preston and Lauren Elizabeth's uniforms on, we grabbed their gloves and bats. Getting to the field, all of their teammates arrived, but Lauren wanted to stay with us.
"Baby Girl! Go! Have FUN and play!"
"I don't want to go."
"Lauren...it will be fun."
"I don't want to. I'll stay here."
Just when we thought that it wasn't going to happen, out of nowhere, Preston said, "Oh come on Lauren, just come with me."
Looking up, she watched as he ran towards the field. Pulling away from us she chased after him. That bitter/sweet feeling took over of holding onto your youngest then letting them go. Without another thought, she was gone.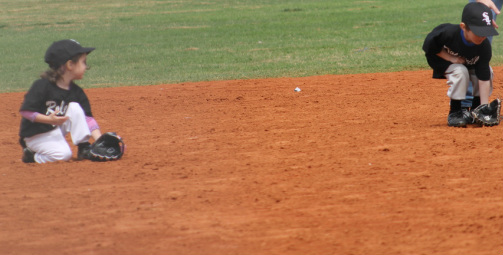 Preston told her to do what he did, then showed her how to get down and be ready for the ball. They stayed together as the game began.

If he ran, she ran. If he moved, she moved. The whole time she watched and stayed with him.
When the inning was over and it was time to bat. We couldn't help but wonder what she would do without her brother. When her name was called, the coach told her to go to the fence and get her bat.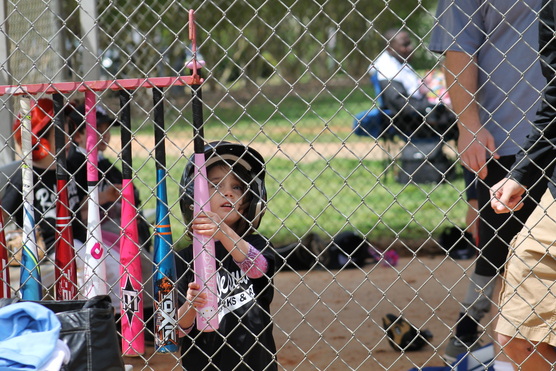 Walking to home plate, Lauren stopped and turned to see us. Feeling butterflies, I leaned towards Adam and said, "I hope she does it..."
Out of nowhere, the biggest smile grew on her face and she turned to get ready.
Hitting the ball off the T, we cheered as Lauren took off running. She had a smile on her face as she landed on first base.
Three batters later and Lauren got to run home for her first score. Meeting her at the dugout, Adam and I couldn't help but smile at her excitement.
"Mommy? Daddy?"
"Yes, Lauren."
"When do we get to play again?"
"Soon enough Baby. Soon enough."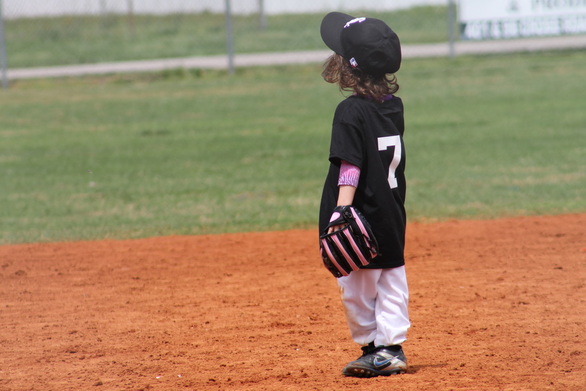 If you like our little blog and have one second, Please click to vote on the picture of this Mom! Thank You So Much!!!