I'm beginning to see ads for "Back to School" shopping. It seems like the kids just had their last day of school about a minute ago and as impossible as it may be, we're already down to the final days of summer.
In our house, the four little words of, "Back to school shopping" evoke somewhat of a conditioned response. The concept brings a pit to my stomach that seems to grow by the year.
Don't get me wrong, there's something completely addictive about the smell of a new box of crayons or the flipping of pages from a crisp clean notebook.
It's not about that though.
You see, I almost left my husband in the middle of Target last year over a roll of paper towels. Yes. Paper towels.
Let me go back...
Our kids get a "School Supply" list each year. I don't know if every school has this, but at their school, it's about a mile and a half long.
It's not just the supplies though, no. It's a DETAILED list. One item of this brand and two items of that and the older they get, the more specific the list seems to be.
The first year we received "The List" (as it has come to be known in our house) was when our son Christian began Kindergarten. It took four days and about six different stores until we had everything exactly right.
The next year became harder as he moved to the First grade and our second son, Ethan began Kindergarten. I wrangled Adam in so he could help me find each specific thing. Over the years, I've become more lax in the details, so when "The List" says a box of "Ticonderoga Pencils" I'm okay with any ol' box of number twos.
Enter...my husband.
I don't want to say that he's Type A or anything, but sweet baby James. It might be a man thing, a military thing...I don't know what. But if the list says:
*8 ounce bottle of Aleene's brand Tacky Glue
*1 dry erase Expo brand non-toxic and low oder marker of any
color (non black)
*Staples brand Brights 500 sheet multi-color printer
paper and
*AC Moore Heavy brand 9x12 500 sheet multi-color printer
paper
(...and trust me...these are all on "The List") then that's EXACTLY what Adam is going to get.
This brings us back to Target. As we stood in the paper towels section searching for an 84 single roll of "Scott" brand towels, I had officially had it. Throwing any roll that I could find into the cart, Adam looked at me wide eyed saying, "We have to match the list."
"No, we need to get paper towels and move on."
"Bea, we have to get what the list says!"
"We did. Paper towels. Let's go."
Round and round we went with each meticulous item until we could barely stand anymore.
Finally resorting to the divide and conquer method, we each took our share of things to find and eventually got it done.
This will be the first year that all four kids will go to school. I get a nervous tic just thinking about it.
Lauren Elizabeth will begin preschool and here is a copy of "The List" for her alone: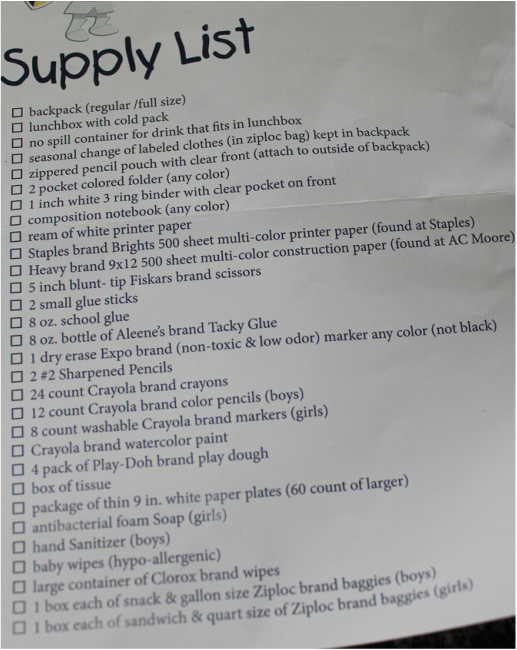 I'm glad there are no paper towels.
If you like our little blog, Please click the picture of the Mama below. Thank You!
Vote! Vote! Vote!