Our son had his third grade school play. I always tell myself during plays, recitals or sporting events...that I won't be "that" mom. The mom who takes a thousand pictures and cheers for any little thing their child does, be it great or small.
I don't want to be that mom who sits in the front row and beams when her child simply walks onto the stage. No main part, no big speech...just walks...as if walking deserved an Oscar or a Tony Award.
The play began and it was amazing. Not that I'm biased, but it really was an impressive production for a third grade level. There were so many students that were beautiful singers and actors. They were fantastically gifted and talented.
Then, out of nowhere, came Ethan. My heart swelled as his big role arrived...as a puzzle piece. That's right...a puzzle piece.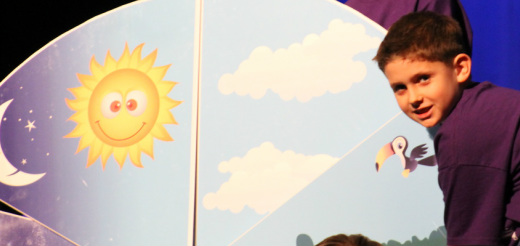 My camera couldn't click fast enough and it took all that I had not to shout, "Hi Baby!" while cheering out loud.
Just then, Ethan turned to find us in the crowd. Lifting my hand, I waved like the nerd mom that I am as Ethan held that puzzle piece like a finely trained actor. He lifted his little hand away from his prop and waved back.
"That's our boy" I whispered to my husband. "Our puzzle piece holding boy."
Even though he might never be the lead of a play, or even have a speaking part for that matter, I'll always be "that mom". The mom who thinks he hung the moon...one puzzle piece at a time.
Please *Click* the brown box below for a VOTE!
Thank You!